Book review:
The Best American Short Stories 2014

, ed. by Jennifer Egan

originally posted elsewhere: February 15, 2015

tl;dr: A wide variety in many aspects, including quality...

I have to give guest editor Jennifer Egan a certain amount of credit for selecting a wide variety of stories for inclusion in the 2014 volume of The Best American Short Stories. In her concise introduction she explains what characteristic of each selection distinguished it in her eyes. Unlike some previous guest editors of this series, who selected works that in some fashion resembled their own, Egan used quite a broad range of selection criteria.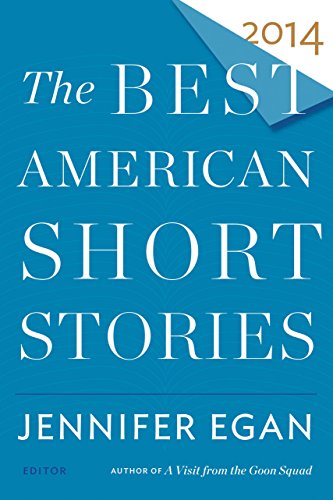 However, Egan's process may also have led to a wider than typical distribution in the quality of stories. Although I enjoyed most, there were a few more duds than usual. Given that everyone's tastes are different, reasonable people can disagree on the merits of any particular story. But few besides Egan are likely to think that all twenty stories in this volume are top-rate.
The stories I enjoyed the most were:
"Long Tom Lookout", by Nicole Cullen: Cullen's prose expertly captured the geography of mountainous Idaho and the life and death struggles of a broken marriage and broken households at the lower end of the socioeconomic spectrum.
"Medium Tough", by Craig Davidson: While Davidson's characters and the action in the story are perhaps a bit beyond the realm of reality, the end result is memorable and impactful and conveys some lessons about the human condition. This story more than any other stands out as a 21st century example of what short story master O. Henry achieved in his best known stories.
"The Breeze", by Joshua Ferris: Although this story on the surface appears to be a portrayal of Brooklyn yuppie angst, it actually explores the tension in a husband-wife relationship in a highly creative manner. Many adults will recognize the thoughts and actions that Ferris' characters explore.
On the downside, the stories I did not care for included: Ann Beattie's "The Indian Uprising", which had an interesting premise but didn't do anything memorable with it; O.A. Lindsey's "Evie M.", whose simplistic prose was true to the main character but whose plot was predictable; and Will Mackin's "Kattekoppen", which wouldn't rank very highly among all the "horrors of war" prose that I have read, fictional or not.
Almost all readers should find stories to like in the 2014 volume of The Best American Short Stories. But for the year 2014 I would rank The O. Henry Prize Stories as having a higher overall quality level.