Book review:
The Day of Battle: The War in Sicily and Italy, 1943-1944 (The Liberation Trilogy)

, by Rick Atkinson

originally posted elsewhere: June 21, 2014

tl;dr: Atkinson's monumental trilogy continues with the battle for Italy...

With The Day of Battle, the second volume in The Liberation Trilogy about the United States' military actions on the Western front in World War II, author Rick Atkinson continues to meet the very high standards he set with volume one, An Army at Dawn, which won a Pulitzer Prize. The Day of Battle covers the Italian campaign, starting with the invasion of Sicily and continuing with the long, bloody march up the Italian peninsula to the liberation of Rome, which happened almost coincidentally with the Normandy invasion.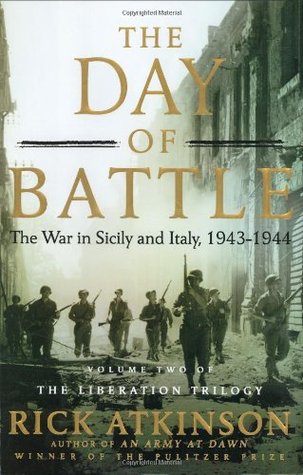 What makes The Liberation Trilogy such compelling reading is Atkinson's skillful presentation of the perspectives of all the war's participants, from FDR, Churchill, and the military leaders plotting the strategy, to the rifleman on the front lines stuck in a damp, dark, cold trench for weeks on end. Atkinson achieves this through voluminous research of everything from official wartime documents to letters home from the troops, with paragraph-by-paragraph citations listed in a lengthy footnotes section after the main narrative. The footnotes are primarily for other scholars, but the main narrative is accessible to anyone with sufficient interest.
As covered in The Day of Battle, the value of the Italian campaign was fiercely debated beforehand by U.S. and U.K. military leaders, and for many years afterwards by historians. While the Italian campaign did not directly lead to the end of the Third Reich, it did provide some military benefits and exacted a toll on the enemy. All this came at a significant price to the Allies, which Atkinson describes in exacting detail. Conquering Rome from the south was a tremendous challenge, and one that was vastly underestimated by the leadership. The Day of Battle provides ample evidence that war is indeed hell.
World War II reshaped the world's political order and rid the globe of a serious threat to freedom and civilized society. It took a while for the United States to get involved, and once it did, the path to victory was far from easy. Atkinson's The Liberation Trilogy does an excellent job of explaining the military sacrifices the United States made and precisely how the war in Europe was won, battle by battle. American citizens who wish to remember and honor the sacrifices made by "the greatest generation" will find their needs more than fulfilled by The Day of Battle and The Liberation Trilogy.