Book review:
The O. Henry Prize Stories 2013

, ed. by Laura Furman

originally posted elsewhere: December 21, 2013

tl;dr: Risk-taking creations that succeed, for the most part...

I read the O. Henry and Best American short story anthologies every year and I generally recommend them with varying degrees of enthusiasm. The minor variations in quality from year to year pale beside the primary benefit, which is to gain exposure to a plentitude of authors and writing styles in one volume. Short stories are an underappreciated art form: in the best case they deliver a compelling example of an author's best writing in a concentrated, easily accessible format. Anthologies are also well-suited for today's busy readers, as they can be set aside for days or weeks at a time, and picked up when the next reading opportunity presents itself.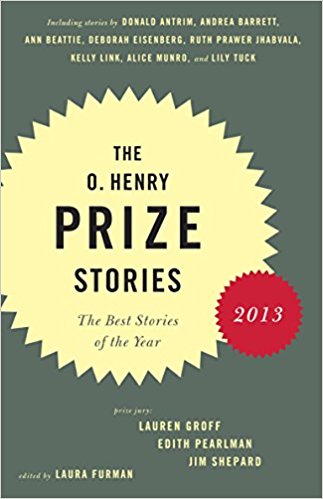 As Laura Furman's tenure as chief editor of The O. Henry Prize Stories grows, I have found that the tone of her volumes has changed. Early in her editorship her selected stories tended towards dark events and visions of the world, which is only a subset of the human experience. Recently, and especially with this year's volume, I feel that her selections are broader in scope and tone, and that she is choosing stories that do more experimentation of form and storyline. This evolution is a welcome one, for this reader.
That trend is best exemplified by my favorite story in this year's volume (which was also the favorite of one of the three prize jurists, Edith Pearlman): "The Summer People", by Kelly Link. Link's gem expertly combines elements of mundane working-class reality with the magical. Link manages to both convey some hard truths about power, money and class while also creating a fantasy that had this reader enthralled and wishing that it could be true.
Other stories that I enjoyed were:
"Two Opinions", by Joan Silber: this story could easily have degenerated into a political advocacy piece. Instead, Silber takes her story much farther and deeper, covering territory such as how the choices of parents influence kids, what it means to lead one's own life, and how loving relationships can change and evolve over time.
"Leaving Maverly", by Alice Munro: I am usually one of the few people who fails to find anything special in Munro's stories, but I thoroughly enjoyed this one. On the surface it deals with several simple small town folks leading bland lives, but there is much passion beneath the surface that eventually bursts forth in surprising ways.
Not every story in this volume succeeds, in my opinion. The biggest misses, to me, were Ann Beattie's "Anecdotes", which came across as a semi-random jumble of disconnected events and opinions (perhaps I should have paid more attention to the title), and Ruth Prawer Jhabvala's "Aphrodisiac", which wasn't objectionable so much as it wasn't as memorable or impactful as the other stories in this volume.
On balance, the 2013 volume of The O. Henry Prize Stories is well worth the investment in money and time to procure and read it. Here's hoping that Laura Furman and The O. Henry Prize Stories folks keep attempting to bring us the best experimental new short stories for years to come.