Book review:
The Best American Short Stories 2016

, ed. by Junot Díaz

posted: April 16, 2017

tl;dr: I preferred 2016's O. Henry Prize short story anthology, as a few too many of Díaz's selections fell flat for me...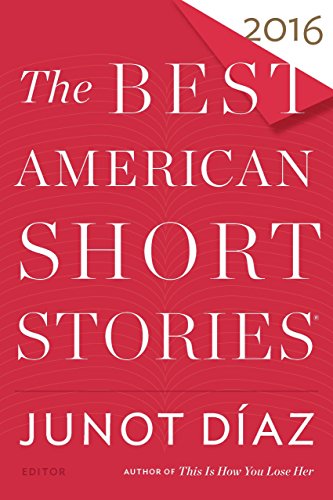 I finished my annual trek through the two major U.S. short story anthologies, the Best American Short Stories and the O. Henry Prize Stories, and as I often find myself doing, I give an edge for 2016 to the O. Henry series. For those not familiar with either, each anthology purports to collect the best twenty or so short stories published in the prior year. If beauty and art were in more than just the eye of the beholder, one might expect a fair bit of overlap in the stories selected by each series. However in 2016, as is usually the case, there is not a single story that appears in both anthologies. Occasionally it does happen, but that is by far the exception rather than the rule. Therefore one can conclude that there is a fair bit of subjectivity in the selections made by the two independent editorial teams. My own tastes must be more similar to those of the O. Henry series editors.
The Best American Short Stories 2016 guest editor Junot Díaz and I do, however, strongly agree on one thing: John Edgar Wideman's "Williamsburg Bridge" is the best of this particular bunch. It shatters the typical mold of a short story, as there really isn't a plot at all, and it reads more like an autobiographical essay; but if it were an essay, it might not be possible for it to have been written, depending on how it ends. The first person author is sitting on a bridge over the East River in his boxers, reminiscing about the past and observing the present as he prepares for his life's final act. Wideman writes the story as a jazz riff, stringing together words and thoughts not because they comply with a structure, but rather because they evoke powerful feelings. Certain parts seem so personal that it appears Wideman is following his jazz riffs back and forth across the fiction/non-fiction boundary, playing whatever notes (i.e. writing whatever words) will touch his audience most deeply. At the end, I found myself scurrying to the biographical notes and to Wikipedia to learn of the current fate of Mr. Wideman.
A couple other stories I particularly enjoyed were:
"The Prospectors", by Karen Russell: there is an element of horror à la Stephen King's The Shining in this story of two thieving young women who stumble upon a creepy party in a Great Depression-era mountain lodge and have to plan their escape. The horror elements add an interesting twist to the story, which is really about the relationship between the two women from different economic strata.
"The Flower", by Louise Erdrich: this story of a young fur trader apprentice and the Indian girl that he befriends also has a few elements of horror, but it is mostly a story about the clash of cultures between the settlers and the native Americans.