10,000 mile review: the Specialized Crosstrail bicycle
posted: August 6, 2017
tl;dr: A great choice if you want a bike optimized for trails, not roads or mountains...
I just clocked my 10,000th mile on my Specialized Crosstrail bike so I thought I'd explain why I've ridden it so much. I've actually put a bit more than 10,000 miles on it, as I didn't put the bike computer on it until I had been riding it for months.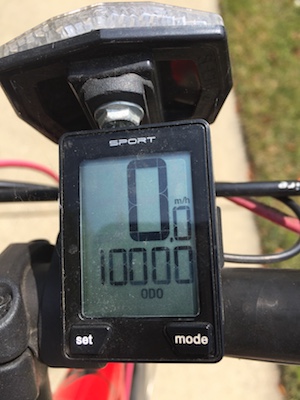 I bought my first Crosstrail not for myself but for one of my children, when we were in the market for my child's first adult-sized bike. The flatlands of Illinois are not mountain bike territory, and I wasn't thrilled about getting my child a road-only bike. I wanted a suitable bike for the bike trails in the greater Chicagoland area: the Illinois Prairie Path, the Great Western Trail, the DuPage River Trail, the Fox River Trail. These trails either wind along the banks of slow flowing rivers, or are built upon old rail lines, so they are not hilly. There are a variety of surfaces: hard-pack dirt and crushed stone, wooden bridges, and some asphalt and concrete. To get to the trails one might ride several miles on city streets, dodging potholes, sticks, and debris. So I wanted a durable, reliable bike that could handle those conditions.
The salesperson at Spokes Bikes in Wheaton convinced me to focus on the Crosstrail, which was marketed as a "hybrid" bike, a cross between a rode bike and a mountain bike. After 10,000 miles I can say the salesperson was exactly right: the Specialized Crosstrail is an ideal bike if your primary riding environment is bike trails. It's the right tool for the job. I purchased one first for my child, then when the bike I had at the time was stolen I got one for myself. The Crosstrail comes in different sized frames: I bought an L for my child, and an XXL for myself.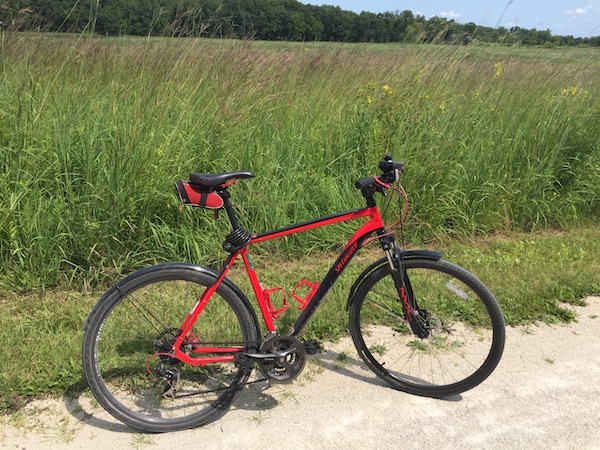 The Crosstrail has an upright seating position, with straight handlebars, which provides good visibility for seeing other riders, walkers, dogs, and obstacles on the bike trails. Bike trails are safer than riding in the street, but they often are often crowded. Even when not crowded, the walkers tend to walk abreast or on the completely wrong side of the trail, so good visibility is key to avoiding accidents. I occasionally see carbon-fiber-frame racing bikes, with the riders clipped into the pedals, on paved bike trails. Yes they pass me on my Crosstrail, but they are also increasing their odds of an accident.
I've had two accidents on my Crosstrail, and both times the bike was repairable. Once I came down a slight downhill around a blind curve and hit some slick river silt that had been deposited during a recent minor flood. All of a sudden I was on a frictionless ice-like surface: I couldn't complete the turn and went down instead. Another time I rode over a stick, as I've done hundreds if not thousands of times before. The stick broke and part of it flipped up in between the spokes of the rear tire and tore off the derailleur, causing the rear wheel to immediately lock up; I didn't go down, but the bike had to be hauled away. So I can attest to the overall durability of the Crosstrail.
The Crosstrail came with the perfect tires for street and trail riding: not as fat as mountain bike tires nor as thin as racing bike tires. They had a smooth surface in the middle of the tire, for lower friction on streets, with knobs only towards the sides of the tire, for providing extra grip on dirt and stone surfaces. Mountain bike tires which have knobs over the entire surface slow the rider down when riding on streets: you can hear the friction when a mountain bike passes by on pavement. Skinny racing bike tires run the risk of sinking into patches of dirt or sand on the bike trail. So my original Crosstrail tires are a great compromise. Even though the original tires are long gone, I've purchased similarly designed replacement tires.
My Crosstrail is my workhorse bike. I've ridden it primarily on bike trails, but also on plenty of streets and roads. I've used it for commuting to work. I installed fenders and a headlight to extend the range of conditions in which I can ride it. I think the most miles I've put on it in a single day is sixty. The seat is plenty comfortable for me, as I'm a person who prefers skinny bike seats.
The biggest hassle with my previous bike was frequent broken spokes. I still get an occasional broken spoke on the Crosstrail, and I've had the rear wheel replaced once, but overall it's been the most durable bike I've owned. After 10,000 miles, and 5,000 on the current sprocket seat, the shift points have drifted a bit. Even when new it was never as smooth a bike as my carbon frame road bike, but the road bike wouldn't survive long on rough surfaces. The Crosstrail does have a front shock absorber that helps absorb some impacts, but not a rear shock absorber: that would be overkill for riding on bike trails. The disk brakes work great, but they often squeal. My road bike is a finely-tuned mechanical marvel by comparison, but for riding the trails, which is the majority of the riding that I do, I always take my Crosstrail. If I were ever to replace it, I would look for something very similar.
I also have to give a shout-out to the folks at Spokes bike shop: they've kept my Crosstrail in good running order since I purchased it. I had a major overhaul at 5,000 miles, with new sprocket set and chain. Now that I've passed 10,000 miles, it might be time for another.