Portland is not a major league city
posted: January 9, 2019
tl;dr: As a fan of both Portland and MLB I strongly advise Rob Manfred to look elsewhere for expansion...
Recently appointed MLB commissioner Rob Manfred has mentioned Portland, Oregon as one of the possible cities for MLB to expand into if and when the number of MLB teams grows from the current 30 to 32. There is one problem that Portland would solve better than any potential city other than Vancouver, B.C.: it would give the Seattle Mariners an opponent less than a two hour flight away. The Mariners are burdened with the toughest travel schedule of any MLB team. By contrast the Chicago Cubs and New York Mets both have a division rival 90 miles away (the Milwaukee Brewers and Philadelphia Phillies, respectively) and an interleague rival a subway ride away (the Chicago White Sox and New York Yankees, ditto).
However MLB should not make this decision on the basis of reducing the Mariners travel woes. As someone who is a fan of both Portland and MLB, who lived in Portland the last time it both had a professional baseball team and was seriously pursuing a major league team, and who has lived in several other cities with MLB teams, I believe it would be a mistake for MLB to expand into Portland. My reasoning:
Major league baseball only works in the largest cities
If you carefully examine the list of cities that have major professional sports teams, you will see an anomaly. The NFL, NBA, and NHL all have a few teams in small metropolitan areas. The NFL has teams in Buffalo, Green Bay, and Jacksonville; the NBA has a team in Oklahoma City, and the NHL has teams in Columbus, Nashville, and Winnipeg. MLB teams, however, are much more concentrated in a smaller number of bigger cities. There are four metro areas with two MLB teams, which just so happen to correspond to the four largest metro areas in the country: New York City, Los Angeles, Chicago, and the San Francisco Bay area.
The fundamental reason for this is that MLB teams have to sell the most tickets by far. To have a healthy attendance level an MLB team needs to sell 2 million tickets a year: roughly 25,000 a game for 81 home games. NBA and NHL teams, meanwhile, can be healthy at 15,000 tickets a game for 41 home games, which is around 600,000 tickets/year. That's about what is needed in the NFL, too: 8 home games at 70,000/game is 560,000 tickets.
Selling 2 million tickets a year in the 27th most populous state, with a little over 4 million residents, is a big challenge.
Oregon is a poorer-than-average state
Many people get seduced by Oregon's beauty, geography, and verdant agricultural lands and leap to the conclusion that it should be an economically vibrant place. But Oregon has some fundamental problems, not at all of nature's doing.
The numbers tell the harsh truth. It would be unfair to call Oregon "the Mississippi of the west coast", because there are only three states on the continental west coast, but it is the poorest of the three. The per-household income numbers bounce around a bit from year to year, but over the past several decades Oregon has consistently been in the bottom half and poorer than the U.S. median, as it was again in 2016. Aside from Nike, it lacks the multi-billion dollar revenue homegrown globally-successful companies that you find in Washington state (e.g. Microsoft, Starbucks, Amazon) and California (too numerous to mention).
You even see this economic lethargy reflected in Portland's downtown skyline, which hasn't changed much since "Big Pink" and the KOIN Center were completed in the early 1980s. The tallest building in town, the Wells Fargo Center, was built 47 years ago and tops out at all of 40 stories. In Las Vegas that would be a mid-sized hotel.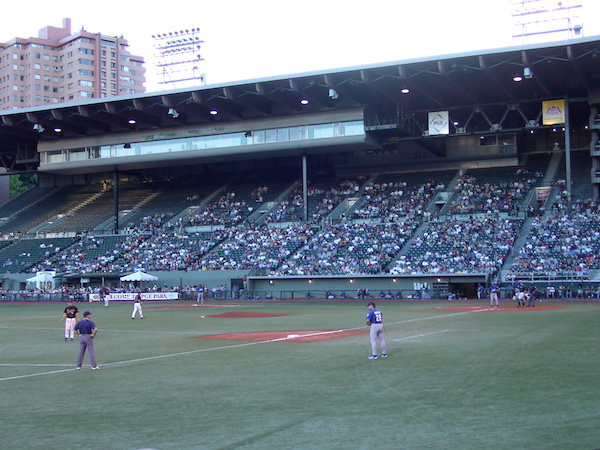 Few major corporate headquarters in Portland
Large corporations, love them or hate them, provide a lot of support for professional sports teams, by purchasing stadium naming rights, buying suites, sponsoring signage, and placing advertisement on TV broadcasts. This is not done altruistically: the corporate brand is looking for a return, in terms of increased sales, awareness, and goodwill. Yes, some of this support can and does come from national or international brands, but it definitely helps to have a strong local corporate presence, especially for buying suites and prime season tickets to be used by local executives and employees.
Portland is a remote office city, not a corporate headquarters city. It used to be a major lumber town, but Georgia-Pacific and Louisiana-Pacific both pulled their offices out of Portland. The locally headquartered banks were swallowed up years ago. There are now only two Fortune 500 companies headquartered in Oregon: Nike and Lithia Motors, a car dealership chain.
No owner
The valuation of MLB franchises starts at nearly a billion dollars and goes up from there. Knowing this, MLB will charge an expansion fee in the hundreds of millions of dollars. The franchise will no doubt have to kick in something, probably also in the hundreds of millions of dollar range, to help build a new stadium. Additional money will have to be spent to build training facilities and acquire players and front office personnel before the first game is held.
It would very much help to have a non-absentee primary owner who can write checks totalling up to a billion dollars. Oregon, however, has just two billionaires. Nike founder Phil Knight has the money to do it, but he is 80 years old. Knight's primary sports funding outlet over the past decades has been his alma mater, the University of Oregon, which he has helped bankroll to become a perennial Pac-12 powerhouse in a number of sports. For the other Oregon billionaire, Columbia Sportswear CEO Tim Boyle, an MLB team would eat up a significant portion of the wealth he's acquired over his lifetime; he may not be willing to put it at risk. Lacking a local billionaire owner, a Portland MLB team would have to be owned by an out-of-state wealthy primary owner (recently-deceased Paul Allen of Microsoft owned the Portland Trail Blazers), or a committee of minority owners, which is a much more difficult governance structure to assemble and operate.
AAA baseball disappeared years ago and hasn't come back
This should be a complete embarrassment to Portland and a huge warning sign to MLB: Portland's AAA team, the Beavers, disappeared in 2010, and there has been no professional baseball in the city since. The Beavers used to share a downtown stadium with Portland State football and professional soccer, but MLS demanded that it be converted to soccer-only for the Portland Timbers. The city chose soccer and Portland professional baseball is now but a memory growing more distant by the year.
If Portland thinks it is ready to support a professional baseball team again, why not start with a AAA team and see if it gets as much support as the Charlotte Knights, the best-drawing AAA team in the country? Based on their support of AAA baseball, Charlotte is much more ready to graduate to the major leagues than Portland.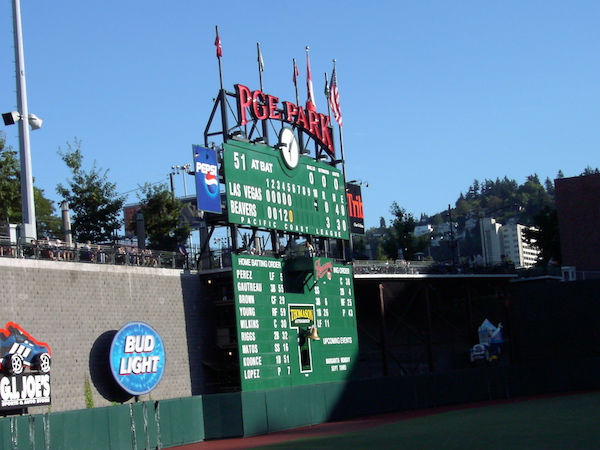 No stadium, and the plans to publicly finance one are inadequate
Unbeknownst to many, the Pacific Northwest has some of the sunniest, driest, most amazing weather during the summer months of anyplace on earth. However, there is also the well-known rainy season, which overlaps with the start and end of every MLB season. As in Seattle, it would be best for an MLB stadium in Portland to have a retractable roof, which raises the construction cost to somewhere in the $1 billion range.
I lived in Portland when Mayor Vera Katz was trying her best to attract an MLB team. As a remnant of that effort there is still a law on the books allowing the issuance of up to $150 million in bonds for a stadium, to be paid back from the state income taxes collected from the high-earning players and executives. Oregon does have a high income tax rate (nearly 10% in 2018), but with major league payrolls in the $100 million to $150 million range, this will only yield $10 million to $15 million a year. This amount would not cover the maintenance on an expensive vintage 2020 stadium, let alone actually fund the stadium itself. Oregon's attempt to self-fund a stadium by taxing the players is sadly delusional; the numbers just don't add up.
My final advice:
Portland and Oregon should take whatever money they were going to spend on an MLB team and stadium and instead focus on fixing Oregon's fundamental problems. If they can build a more economically vibrant state, baseball will eventually follow.
MLB should fix the stadium problems in Oakland and Tampa Bay before thinking of expanding. If they absolutely want to expand and put a team in the western U.S., Las Vegas would be a better choice due to its high long-term population growth rate. The so-called IMW region (Inter-Mountain West) has the four fastest growing states by population percentage: Nevada, Idaho, Utah, Arizona. Charlotte would be my choice in the east, and perhaps Montreal.
Links: