Book review:
The Best American Essays 2019

, ed. by Rebecca Solnit

posted: August 9, 2020

tl;dr: A selection of twenty political essays, for the open-minded and the already-committed...

Series Editor Robert Atwan, in his forward to The Best American Essays 2019, describes the political leanings and writings of essayist and novelist George Orwell. It turns out that Orwell was also an avid collector of political pamphlets: his collection resides today in the British Library. Yet, as Atwan demonstrates, it is hard to precisely define Orwell's political leanings, which at times were contradictory. It's even harder to extrapolate Orwell's political beliefs into the present day. Atwan wonders how Orwell would have voted on Brexit, as there are reasons to believe he would support either side.

Based on the twenty essays she chose for The Best American Essays 2019, politics matter even more to Guest Editor Rebecca Solnit than they did to George Orwell. That's fine, as a necessary component of a stellar essay is the author's passion for the subject matter. But I do feel that the overall aesthetic quality of the essays in the 2019 volume was lower than usual, as Solnit sacrificed quality of prose in favor of subject matter that was important to her. Orwell, in his essay "Why I Write" as quoted by Atwan, mentions aesthetics as one of the four reasons he writes. I don't think many of these essays in this volume measure up to the prose produced by Orwell.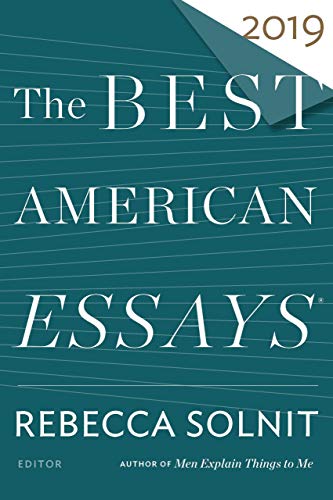 The one essay that easily qualifies as art, in my view, was Heather Altfeld's "Obituary for Dead Languages". Written in an impressionistic, non-expository style, this essay manages to convey the points Altfeld was trying to make without explicitly spelling everything out in a straightforward manner. On the one hand, the practical side of me believes that our world would be more frictionless if we all spoke the same language; on the other hand, there are myriad benefits to diversity of thought. Something is lost each time a human language goes extinct, and Altfeld conveys this truth in a magical, memorable way.
Other essays of note, to me, were:
"The Autobiography of My Novel", by Alexander Chee: Chee explains the process he undertook to create his first novel from autobiographical events and how and why he took artistic liberties; he also describes the challenges of selling a novel that doesn't fit neatly into any existing categories.
"Is All Writing Environmental Writing?", by Camille Dungy: in just a few pages, Dungy interleaves an episode from her childhood into larger concerns about race and the environment, enticing the reader into her narrative so that she can convey her messages.
Few of the other essays in The Best American Essays 2019 were memorable to me, alas.