Book review:
The Best American Short Stories 2019

, ed. by Anthony Doerr

posted: December 29, 2020

tl;dr: One of the best short story collections in recent years...

If Anthony Doerr ever decides that his novel writing gig isn't working out, he can always get a job as an anthology editor. With just a few exceptions, I thought his selections as guest editor for The Best American Short Stories 2019 were exemplary. He features a wide range of styles and subject matter, with the primary common qualities being the excellence of the writing and the degree to which the stories engage the reader. The resulting volume stands out from its recent peers in the short story anthology genre.

In his introduction, Doerr delineates the rules which are taught to students of the short story in our nation's finest writer's workshops. He then, in brief one-sentence descriptions of each of his twenty selections, explains how almost every story violates one or more of those rules. I wouldn't say that this collection is meant to radically redefine the structure of the short story. Rather, this collection shows how the rules can be bent to great effect, when done so by a highly skilled author. The rest of us are probably better off following those rules.

Anthony Doerr's Pulitzer Prize-winning novel, All the Light We Cannot See, has been on my "to read" list for years. Perhaps, having been pleased with this anthology which he edited, I will bump his novel closer to the top of my list.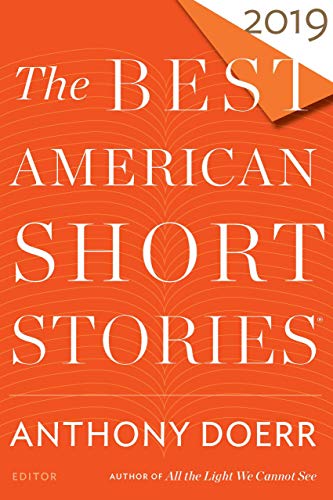 There is one story which appeared in the 2019 volumes of both The Best American Short Stories and The O. Henry Prize Stories: "Omakase", by Weike Wang. I thought it a fine story but it wasn't one of my favorites, which are:
"Black Corfu" by Karen Russell: A haunting story from an era of superstition, far away and far ago, that is also a parable for our times concerning race, class, honor, and hubris.
"The Era" by Nana Kwame Adjei-Brenyah: A highly entertaining, humorous story that takes place in the near future and which features a schoolkid who is not on the path to whatever Harvard has become. As with Karen Russell's story, it contains more than a few insights into our present times.
"The Great Interruption: The Story of a Famous Story of Old Port William and How It Ceased To Be Told (1935-1978)" by Wendell Berry: A slyly humorous portrait of life in a small town, and how a singular secretive event unfolded, and what became of its telling.
"Audition" by Saïd Sayrafiezadeh: an engrossing story about a couple of day laborers killing time and flirting with addiction while they play out the slim hopes they have of escaping their situation.
"Seeing Ershadi" by Nicole Krauss: a poignant story about life and relationships among young adults pursuing their passions in the big city, and the captivating powers of cinematic images.
I read two short story anthologies a year: The Best American Short Stories series, and The O. Henry Prize Stories series. If you aren't yet reading short story anthologies and want to give one a try, I can highly recommend The Best American Short Stories 2019 volume.