Performance review: Marc Maron at StandUpLive, August 13, 2021
posted: August 14, 2021
tl;dr: The humor is necessarily dark, but it's refreshing to be able to joke about the pandemic...
The performing arts are slowly, hesitatingly returning to the stage after going dark because of the COVID-19 pandemic. My wife and I went to our first live performance since the pandemic started,when we saw comedian Marc Maron perform the second of two shows over two nights at StandUpLive in downtown Phoenix.
It was the first time we've had to show our vaccination cards (photos also accepted) to gain access to an event or venue. That wasn't a problem for us, and doesn't bother me since it is the performer's preference at a private venue. Marc Maron might not have wanted to perform under different conditions. Once inside, we were seated at a shared table on the densely packed main floor, where almost all were unmasked except for some of the staff, as the audience was also enjoying food and the two-drink minimum tab.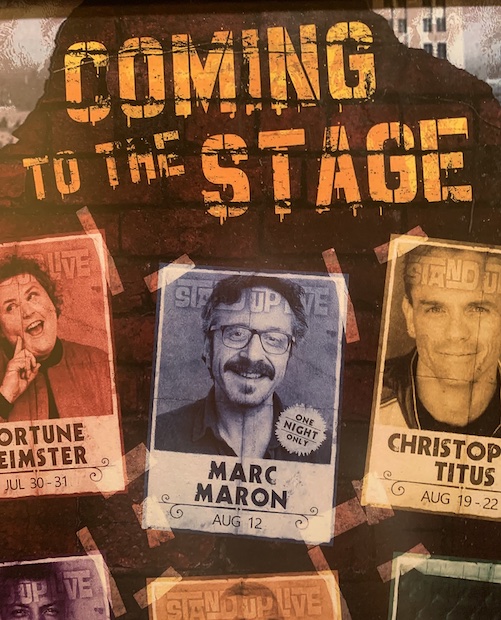 The opening comedian scurried off the stage quickly; Maron later explained that he had yelled at the opener the previous night for doing a long set as though he were the headliner. Maron, in contrast to the opener, did a long set and gave the audience its money's worth. I can't recall ever seeing Maron perform before, in any medium, and I'm not a subscriber to his WTF podcast - my wife is. So I walked in not knowing much about him.
Maron has been through a lot in his life, including two divorces and the recent death of a partner. He is unafraid to share details of his relationships, although presumably he enhances a bit for comedic effect. He talked about his parents, partners, and aging, usually with a dark outlook on life and the future. He spoke about shopping for a gun during the midst of the pandemic, which led to some funny ruminations on what target the gun might actually seek someday.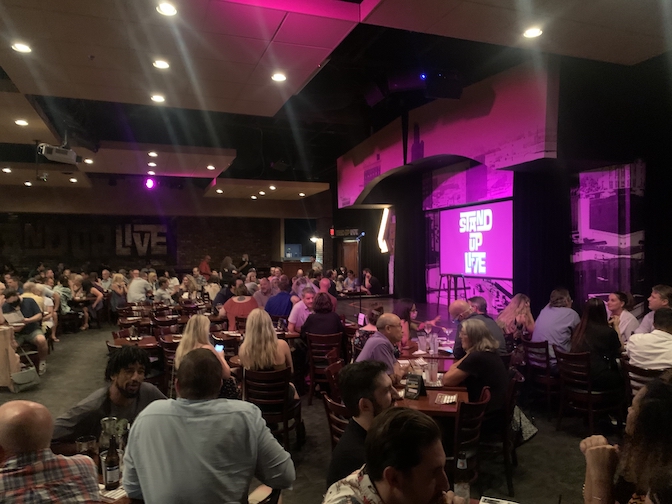 The best part of Maron's gig was that he was able to joke and get the crowd laughing about the pandemic that we've all endured, usually with a gallows sense of humor. Comedy performs a valuable role in society, I believe, which is why satire is one of my favorite categories of literature, and why I enjoy authors such as John Barth, Christopher Buckeley, and Dave Barry. I was doubled over with laughter when Maron did an impression of a cranky guy who didn't want to get the vaccine because he feared "the computer guy" (i.e. Bill Gates) wanted to kill him.
Maron got in his digs at politics in Arizona, always claiming that he wasn't doing political humor, he was just being rational - which of course was another joke. Trump was a favorite target, and there is certainly plenty of comedic ore in that mine. The difference between a comedian like Maron and one of the all-time greats, George Carlin, was that Carlin viciously skewered politicians of all persuasions. All politicians have their faults, as the people who were cheering now ex-New York governor Andrew Cuomo last summer have recently discovered. Hailing from California, with its huge forest fires and inability to keep the lights on, there is certainly ripe material right in Maron's backyard. The ability to roast everyone, from all sides of the spectrum, is something that may be lost in the world of comedy in the 2020s.
Kudos to Marc Maron for putting on a show that sent the audience home with smiles on their faces.