Riding a hog
posted: March 12, 2022
tl;dr: What red-blooded American motorcyclist wouldn't want to ride a Harley-Davidson?...
Quintessential American motorcycle
Here's my list of the most quintessential American four-wheeled vehicles: Chevrolet Corvette, Ford Mustang, Jeep Wrangler. Each has been made for decades, through multiple generations of design. There've been ups and downs along the way, yet they have all survived and at times thrived. Many collectors buy and restore old ones, and vintage ones in mint condition can fetch many times their original purchase price.
The Jeep Wrangler has a direct lineage back to the U.S. Army Jeep used in World War II. I've owned two Wranglers in my lifetime, my current one being of the JK generation, and there's no other vehicle quite like it on or off the road. It fundamentally is a street-legal off-road vehicle, instead of being an on-road vehicle that can also be driven off-road.
The quintessential American two-wheeled vehicle is a Harley-Davidson, which dates back to a shack in Milwaukee, Wisconsin in 1903. Harley has also gone through its ups and downs, with the years in the 1970s when it was owned by AMF perhaps being the low point. But it has had the staying power to survive throughout. The same cannot quite be said of the Indian motorcycle brand, which was defunct when I was a youth.
Harley-Davidson has always been an aspirational brand for me. Few young motorcyclists start on a Harley. The engines are large and powerful, and hence a bit dangerous; the bikes are heavy and harder to maneuver; and they are relatively expensive. When I scraped together enough money to buy my first motorcycle as a college student, a Harley simply was not an option. But many people, myself included, desire to ride a Harley when they are able to control one and afford one.
If I was German, sure, I'd want to ride a BMW. If I was English, I might lust after a Triumph. I have owned a Japanese bike, a Yamaha SR 250, and the Japanese do make wonderfully performant, efficient, quiet motorcycles. But I'm an American.
Designed for North American roads
If you've ever toured the country, coast-to-coast, you know just how large the United States of America is. If you haven't toured the country coast-to-coast, then you really should. For successful long-distance touring, a motorcycle should be optimized for power, strength and solidity of frame and components, comfort, and carrying capacity. Harley-Davidson has the largest lineup of models suitable for touring; someday soon I will upgrade my Sportster Iron 1200 to one. It was pretty crazy of me to take a Yamaha SR 250 cross-country, as I knew at the time. Today I can afford a Harley.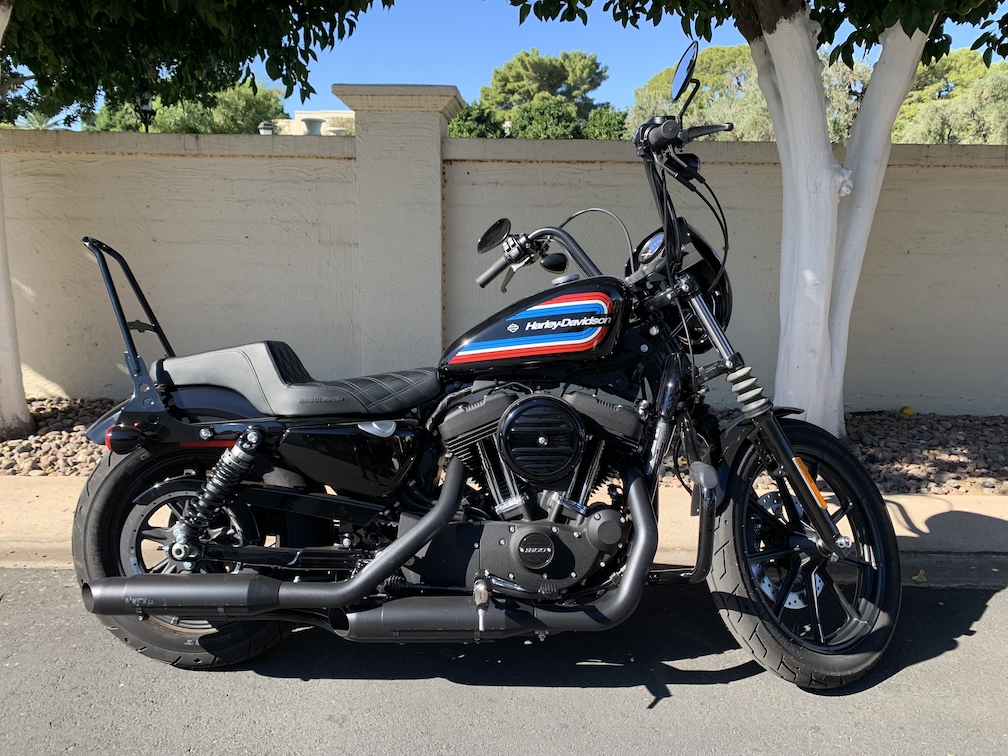 Made in U.S.A.
I'm not happy with the destruction of the United States' manufacturing capacity and our country's increasing reliance on imported goods. I played a small role in that transition, as I described in my series of posts about A decision to outsource manufacturing to China. The company I worked for at the time really had no other choice: there were much stronger political and financial forces at work that drove the decision.
Harley, meanwhile, has managed to survive as a U.S. manufacturing company. Yes they have operations in other countries, but the bikes sold here are "Made in U.S.A." I like the fact that my purchase supports jobs and workers right here. If that means the bikes cost a bit more because the workers get paid more than they do overseas, then so be it.
Dealership network
There's a sometimes overlooked, practical aspect of owning a Harley: the extensive dealership network. That network, and the fact that the bikes are made in the U.S.A., makes it easier to get parts and service. This can matter a lot when on a long road trip, if your bike breaks down in the middle of nowhere. Because the dealerships typically sell and service exclusively Harleys, their mechanics are skilled on servicing Harleys. You're probably never going to have to wait for a part to show up from overseas on a boat. There are also many independent motorcycle shops who can service Harleys. Riding a less-popular, foreign-made motorcycle exposes yourself to more chances of delay when on a long trip.
Fellow hogs
Harley-Davidson is the most social motorcycle brand in the United States. The brand encompasses much more than motorcycles: it can be a lifestyle. The Harley Owners Group is international, with over 1,400 local chapters; I belong to chapter 3160. Most of the focus is on group rides, which are a fun way to meet and hang out with other Harley enthusiasts.
There are, of course, many other biker clubs. Some require their members to have Harleys, some are open to any motorcycle manufactured in North America, some are completely open, and some focus on other brands. Owning a Harley, at least in the United States, gives you access to the most options.
Access to biker events and places
Riding a Harley also provides access to many biker events and places. You don't always need to be on a Harley, but it definitely helps. The Sturgis Motorcycle Rally attracts hundreds of thousands of bikers to the South Dakota mountains. There are many other smaller rallies and meetups in cities big and small throughout the country, whenever weather permits. Of course there are biker bars and other establishments frequented by bikers. There's also the Harley-Davidson Museum in Milwaukee. There is no shortage of places to go on a Harley.
Related post: Getting back in the saddle after a long break
Related post: Why I got back in the saddle
Related post: Why I ride