Moving to Arizona FAQs, part two
posted: March 26, 2022
tl;dr: More questions I am most often asked by others considering moving to Arizona...
(continued from part one):
How hot is it really in the summer?
The Valley definitely gets hot in the summer, from late June through early September, with every day in the 100s to 110s. It's a dry heat most of the time, which does make a big difference. I prefer 100 in the Valley to 75 in the Midwest with humidity. It does cool off every night, so the coolest time of the day is right at sunrise: that's when I go out and do my biking and other outdoor activities. You can be outside and relatively comfortable 365 days/year: in the worst of the summer it might be 82 degrees at sunrise headed to 115 during the afternoon.
Much of the year you can open doors and windows and use outside air to regulate your house temperature. But from mid-June to mid-Sept you'll have to keep the house buttoned up and the air conditioning running. I find it a lot cheaper to keep my Arizona place at reasonable temperatures than I did to heat/cool my house in Chicagoland.
What options exist in the Valley and nearby?
I live in Scottsdale, which has everything from 8-figure desert mansions owned by celebrities (esp. Paradise Valley, a separate town) to dusty trailer parks with places to park an RV. Phoenix has more of a city vibe, with arts and shopping districts. If you want to get away from the hubbub, there are some communities on the northern fringes of the Valley that might be appealing: Carefree, Cave Creek (if you don't mind a steady parade of motorcyclists - that's one of the main biker hangouts), New River, Anthem, Rio Verde. North isn't the only direction you can go, it's just the one that I am more familiar with.
Some places are more oriented to families with kids, some are more oriented to retirees. There are planned communities, retirement villages, golf courses with housing, and just plots of land that you can build on. It all depends on what you want.
There's also Tucson, about 90 minutes to the south. It's 1000 feet higher in elevation, so just slightly cooler. It's a much smaller city, more of a university town, but it's in a more picturesque setting and there's more Mexican and Spanish cultural influence. People who went to school there at the University of Arizona tend to love it. A place in Tucson is going to be cheaper than an equivalent place in the Valley.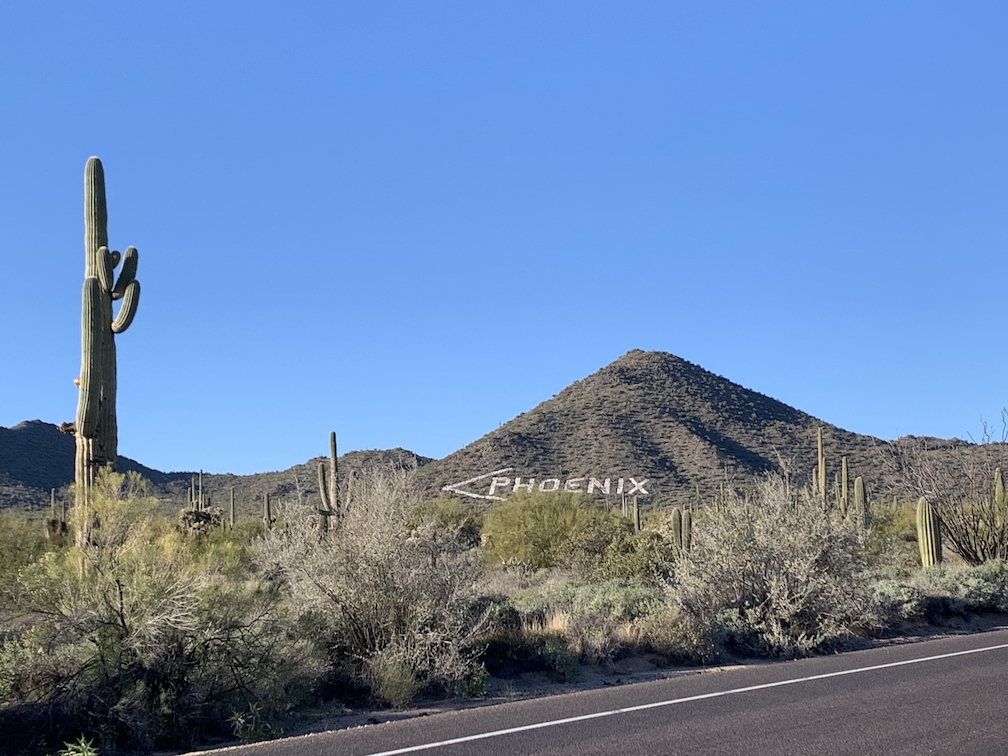 What other options are there if I can't stand the summer heat in the Valley?
Elevation is what matters, and whether you have one place or two. The Valley is where you need to be to completely avoid snow in the winter, but then you have to bear the heat in the summer if you only have one place. Places at 4,000 to 5,000 feet, like Sedona, Prescott, and Payson aren't too bad in the winter: it will freeze at night, but it doesn't get warm during the day until later in the spring. Flagstaff at 7,000 feet is downright cold and snowy in the winter and not too hot at all in the summer, with typical highs in the 70s.
Those who can afford it will often have a primary home in the Valley and a secondary home at higher elevations, for use in the summer months.
Let's talk utilities: what about power?
Many homes and neighborhoods only have electricity as a power source, which is used for both heating and cooling. There's not as much need for heat in the winter, so they often don't bother with natural gas. All-electric is the future anyway, which is why Arizona is well-positioned for the green energy future. There's lots of solar, nuclear, and hydropower here. The Navajo Generating Station, at the time one of the nation's largest coal-fired power plants, was shuttered in 2019 and is being demolished. My electric bill peaked at $244 in July last summer, and the low was $99 in April. We keep the cheap power in the state, and sell the expensive power to California: Arizona is an exporter of electricity.
Okay, the biggie: what about water?
Water should be okay as long as you are served by the Central Arizona Project (CAP), the large canal system that siphons some water from the Colorado River, rather than being in a place that relies upon local groundwater. Most of the Valley is CAP, it's the outlying areas that are on their own. There have been no water restrictions at all in the four years I've been here.
When I toured the Glen Canyon Dam they told us that roughly 75% of the water in the Colorado is used by agriculture, another 15% is industry, and residential is only 10%. There is a heckuva lot of agriculture in the Valley and surrounding areas, which all requires irrigation, of course. As the farmland gets converted to housing developments, the amount of water used actually goes down, not up. If they manage it properly, and continue to keep enough flowing to residential areas at the expense of the farmers, it should be manageable. People in the Midwest will just have to pay more for lettuce in January.
Should I move to Florida or Arizona?
This is pretty straightforward. Putting family and friend considerations aside, there are three points to consider:
Are you a beach person or a mountain person? If there's nothing better in life than hanging out on the beach sipping a cool drink, then Florida is your place. If you can't stand the thought of living on a huge sandbar and you seek solace in the mountains, then Arizona is for you.
Can you tolerate humidity? That is a must for surviving summers in Florida. Temperatures in the summer in the Valley of the Sun will be even higher, but as we famously say here in Arizona, "it's a dry heat". Think of the rush of hot air you get when opening an oven door. Laundry dries if you hang it outside in the summer almost instantaneously, because we live in a giant clothes dryer.
Do you want to pay zero state income taxes? Some investors, financial industry people, and celebrities want to keep as much of their income as possible, in which case they move to Florida, Texas, or Nevada. Arizona's state income tax rates are not high, but they also are not zero.
Related post: My one lucky travel delay: Camelback Ranch
Related post: The best time to move from the snowbelt to the sunbelt
Related post: House complexity: Arizona vs. Illinois