5,000 mile review: 2020 Harley-Davidson Sportster Iron 1200 motorcycle
posted: March 10, 2023
tl;dr: One of the last and best models of the beloved, iconic, Evolution-based Sportster line...
I cannot talk about my Iron 1200 without first talking about the 1200cc air-cooled V-twin Evolution (Evo) engine, which Harley has been making since 1984, when I was in college. I've heard that Harley has made over 2 million Evo engines; if you make 2 million of an engine, you are going to get pretty good at it. You and I and everyone else in the U.S.A. has been listening to Evo-based Harleys for almost four decades. I have an emotional attachment to that potato-potato sound. As an engineer I appreciate proven, mature technology, and the Evo has stood the test of time. It has a well-earned reputation as a rock solid engine. Once the world gets to the Mad Max post-Armageddon state, I have absolutely no doubt what vehicle I am going to be roaming the desert upon, scavenging for petrol: my Iron 1200 with the Evo engine. After everything else has failed, the Evo will still be running.
I was aware of the pending demise of the Evo-based Sportster when I got back into motorcycling in the fall of 2021. I wanted to own one for the reasons already cited and to recapture a piece of my youth. Harley-Davidson Sportsters are also the most customizable motorcycles on the planet given the huge variety of parts available for them as well as legions of mechanics who are skilled in working on them. You can turn a Sportster into just about anything, from a café racer to a chopper to, believe it or not, a bagger. I once met a guy who was turning his into what I would call a Sportster 883 Street Glide (the 883 is the smaller-bore version of the Evo). He had somehow found a batwing fairing for the front, and had put saddlebags along with a milk crate to function as a touring pack on the back. It looked like a Frankenbike, which was his name for it, but it did demonstrate that you could do just about anything with a Sportster.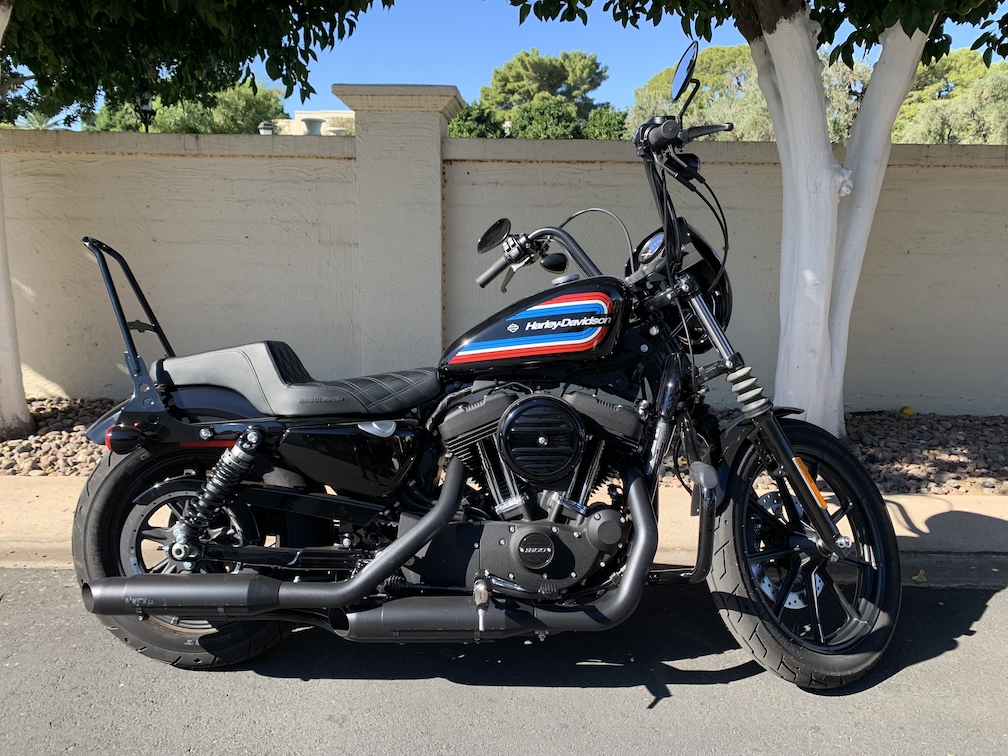 I chose the Iron 1200 Sportster over the Iron 883 because the 1200, with its mini-ape handlebars, had a better riding position for me, and also I wanted the bigger engine. The other model with the 1200 Evo was the Forty Eight, but its tiny 2.1 gallon gas tank makes it impractical for going more than 75 miles between fuel stops. I bought a slightly-used Iron 1200 with under 4,000 miles on it. I was fortunate to get black, with the red, white, and blue retro Harley-Davidson logo from the 1970s. The tank badging has fooled at least one person into asking me if I was riding a 50 year-old Harley. There is an old Harley that somewhat resembles my bike: the 1974 FXE-1200.
My bike came with some after-market extras: engine guards (we used to call them crash bars years ago), a two-person Saddleman seat, a sissy bar, and LED lights. I added rear pegs and a back rest for the sissy bar, and had the foot controls moved up, from mid to forward, to accommodate my long legs. People sometimes tell me I look ridiculous riding a Sportster, but since I'm two meters tall, I look ridiculous on just about any bike. The Sportster is comfortable enough for me to make it my preferred motorcycle for riding around town, or going on short rides that avoid the highway. It got me into the Harley family, and allowed me to build my confidence riding a heavier bike.
The Sportster's shorter wheelbase and lighter weight, in comparison to other Harleys, means that it gets tossed around more on rough roads. The suspension is much harsher than the Softail and Touring model lines. As the expression goes, there's a reason they call it the "Iron". The next upgrade I make to my Iron 1200 will be the suspension, or perhaps louder pipes to make the Evo sing even more.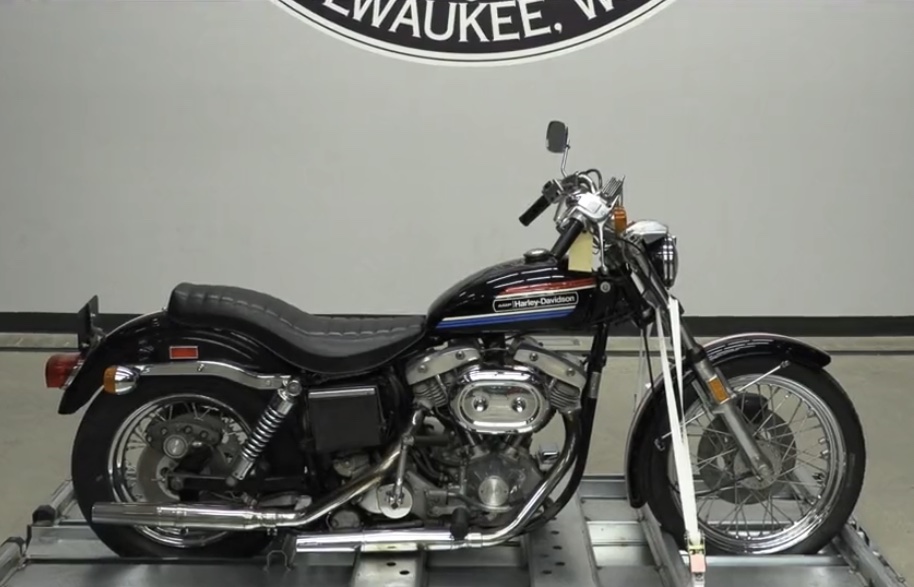 Although people do outfit Sportsters for long-distance rides and touring, I decided to get another Harley, a Heritage Classic 114, for that purpose. The Sportster lacks the sixth gear that lessens engine RPMs when sustaining speeds above 70mph, but that's not a dealbreaker. The real issue is wind. I'm getting too old to spend much time in the full force of a 70mph wind. The Iron 1200 came with a small speedometer shield, which kept some wind off my belt buckle. I replaced it with a quarter fairing, which keeps wind from my mid-torso, although I still feel it in my shoulders and head. I decided not to go any bigger. I enjoy open-air motorcycling for the short-distance, lower-speed rides on which I take my Sportster. If I'm going a longer distance that involves significant highway miles, I take the Heritage.
With the discontinuation of the Evolution-based Sportster line, the nearest model today to my Iron 1200 is the Nightster, with the water-cooled 975 Revolution/Max engine. I recently rode a 2023 Nightster Special when the Harley-Davidson factory demo truck came to my local dealership, and it was a blast. The Nightster sheds about 100 pounds from my Sportster, chiefly by not having a frame: the engine itself is a structural element that holds the bike together. For better (lower weight) or worse (less durability), there is more plastic used in the Nightster. The NIghtster has a lower center of gravity, as the gas tank is actually beneath the seat. What appears to be an iconic Sportster gas tank on the Nightster is actually a large air intake. The water-cooled Revolution/Max engine runs and revs a lot higher than the Evo Sportster, and the transmission "clinks" instead of the reassuring Harley "clunk" when you shift gears.
The new Nightster is quite a different bike, but it was so much fun to ride. It turns easily, and with three riding modes, it can accelerate as quickly as I wanted to. Like the Sportster, it is more of an around-town bike than a long-distance bike. I would love to ride some canyons on the Nightster. Did Harley make the right move in ditching the Sportster for the NIghtster? I'm too old to be the target market for the Nightster, so it really depends on what younger generations think of it. Harley is clearly hoping that the NIghtster will get some riders off their Japanese bikes and into the Harley family sooner in life. As for this old guy, I'll keep riding my Sportster as long as I can, nuclear holocaust or not.