5,000 mile review: 2020 Harley-Davidson Heritage Classic 114 motorcycle
posted: March 25, 2023
tl;dr: A near-perfect one-person touring motorcycle...
I don't know anyone who owns or has owned a Heritage who doesn't love it.
Oops, double negative. Let me rephrase that:
Everyone I know who owns or has owned a Heritage loves it. Me included.
As I mentioned in the review of my first Harley, a Sportster Iron 1200, I bought the Heritage because I wanted something better suited to higher-speed, longer-distance riding and touring. The Heritage delivers, in spades.
The Heritage Classic 114 is effectively the fully-kitted tourer in Harley's Softail line, even though Harley calls the entire line "cruiser" bikes, reserving "tourer" for their heaviest frame bikes. It comes standard with a windshield, saddlebags, floorboards, ABS, and full fenders, all essential features if you are a motorcyclist of a certain age who wants to take long trips. Younger riders seeking a bit more performance can choose the Low Rider ST with its frame-mounted fairing and more aggressive riding posture, but the lack of floorboards is a deal-stopper for me. A man's got to know his limitations.
The Softail frame on the Heritage iis a wonder of engineering: the single, hidden shock absorber does an amazing job of smoothing out the bumps. I've ridden both my Sportster and my Heritage over the same roads, some of them of washboard consistency, and the difference is stark. The longer wheelbase and cushier seat of the Heritage also help. I have yet to attempt an Iron Butt ride, but a 300-mile day on the Heritage is no sweat at all. The stability of the Heritage at speed is reassuring: I have not pegged the 130 mph speedometer, but the bike feels rock solid at speeds that I hesitate to admit to in public.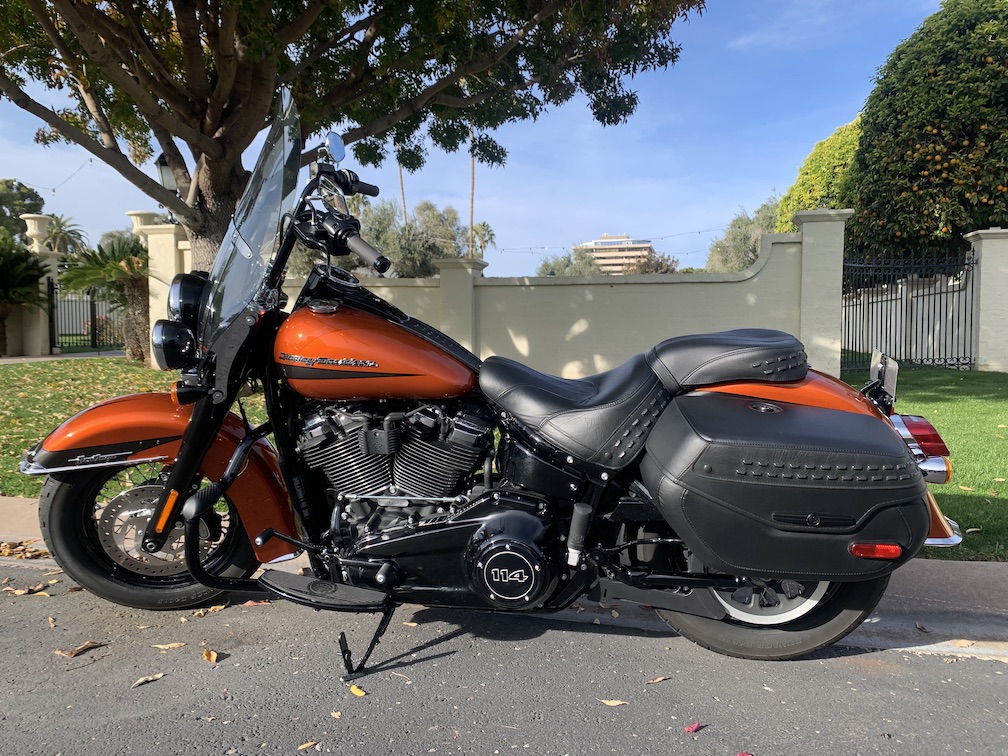 The Heritage is the rare product that (almost) lives up to its marketing hype. Let's examine how Harley bills it:
The quintessential American cruiser. Showstopping vintage details and pure rock and roll style.
The Heritage is quintessentially American, although I'd call it more of a tourer than a cruiser. The styling, including the studs, does harken back to an earlier time decades ago when rock and roll was young. If Elvis was still alive and riding a current model Harley, he would be astride either the Heritage Classic 114 or the Road King.
For riders ready to chase excitement across state lines.
I have taken the Heritage across state lines, including a recent 3-state trip from Arizona through California to Nevada. It performed admirably.
I knew the Heritage was the next bike I wanted after my Sportster after riding it at several Harley-Davidson demo days and hearing nothing but good things about it from owners. The other bike in the running was the Road King, but the lower handlebars of the Road King and the greater weight tipped my decision towards the Heritage, although the Road King is an incredibly smooth-running machine. I was keeping my eye on Heritage models that showed up at my local dealer and pounced on a slightly-used model when it arrived on the showroom floor. It's a beautiful bike, with its two-tone Orange Flux paint job and chrome spoke wheels, the rest mostly blacked-out with a few chrome highlights. I appreciated the after-market extras it came with, especially the first one:
Extra-large Klock Werks windshield
Vance & Hines two-into-one exhaust
Performance Machine grips
LED headlights
Heel shifter
Who buys a brand new motorcycle, does all these upgrades, rides it for fewer than 2,000 miles, and then sells it back to the dealer? Who knows, but someone else's investment is my gain. So far I've only added engine guards and LED indicator lights, and I bought a detachable rear-seat luggage bag for additional storage on longer trips. For longer trips, backrests and a touring pack are available. The Heritage is perfectly capable of long-distance touring for one rider; for touring with a passenger, I'd recommend stepping up to Harley's Grand American Touring line if you can afford it.
All that said, there must be some minor defects, so here are my nits. The first is one that other Heritage owners will admit to: the push-in locking/latching mechanism on the saddlebags is prone to failure. I had one completely disintegrate on me when the plastic housing broke. The Harley service technician who helped replace it said that he keeps a few spare latching mechanisms around for when the inevitable failures happen; still, he loves his Heritage. My other nits are styling preferences. I'm not a fan of the blacked-out lower-half standard windshield that Harley ships on a good fraction of the Heritages: I prefer the fully clear windshield. I don't think mag wheels look good on a Heritage; Harley may have recognized this, as the 2023 models all feature chrome spoke wheels. Of course, others' preferences may be different from mine.
If you are looking for a near-perfect one-person touring bike, give the Heritage Classic a test ride. If you do buy it, you are highly likely to join the legion of Heritage owners who love their bikes.