Hopping the border at Heavenly
posted: April 15, 2023
tl;dr: Heavenly's views are unrivaled, but it needs some work to keep pace with other world-class resorts...
After two years of no skiing with my brother due to the COVID-19 endemic (2020 and 2021), and a non-bucket-list ski trip to Arizona Snowbowl in 2022, my brother and I resumed our annual bucket-list ski trip by skiing Heavenly Ski Resort, which straddles the California and Nevada border in South Lake Tahoe. Heavenly is where singer and politician Sonny Bono tragically met his Maker by skiing into a tree, so it does feature some challenging terrain.
One of the greatest challenges, which is number eleven on this list of the 15 Best Steepest Ski Runs in North America, is Gunbarrel. I have never seen a run like it anywhere: a highly visible, completely exposed run at the California base area that is (according to the article) 1,600 feet of uniform moguls from top to bottom with a 31 degree pitch. I've seen plenty of mogul runs before, but never one this long. Moguls and I do not agree, as my long body and long skis are not built for moguls, but some insane people love them. I might be able to ski Gunbarrel once if I skied at Heavenly for a week to work up my skills and courage, and then took an hour to slowly make my way down it, bump after bump. I wouldn't have any fun.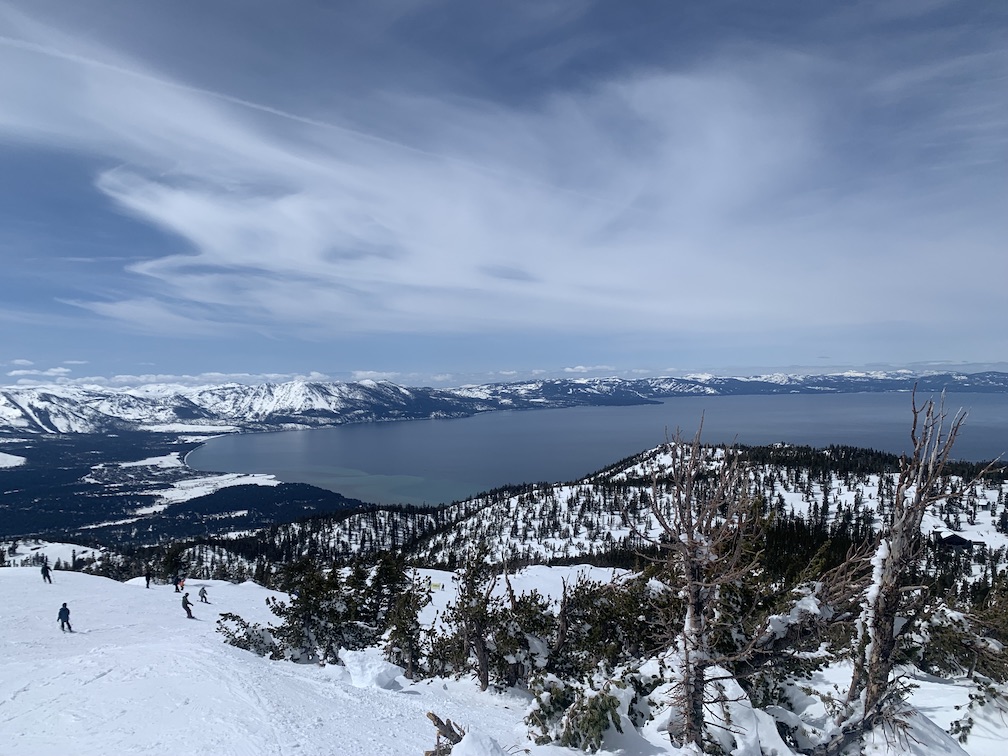 Needless to say, Heavenly has plenty of terrain that is beyond my abilities. We skied there for two days, and I would be very happy to ski it for a week. There are plenty of enjoyable blue cruisers. The views of Lake Tahoe and the surrounding mountains are unrivaled. I am not aware of the history of Heavenly, but it sure does seem as though it was once two separate ski areas, one in California and one in Nevada, that someone figured out how to slightly interconnect to provide a unique experience of skiing from one state into another. That said, you're better off spending your day just in one state, as the journey between them involves a fair bit of traversing with double poling. Snowboarders hop.
This issue leads my list of minor complaints about Heavenly, which was confirmed when some locals who own a place there told me their list: you will find yourself on flat ground more than at other ski areas. Unless you are completely without other options, do not take the Nevada Trail down from East Peak Lodge. Heavenly is a complicated ski area due to its widely-distributed layout; the local who raised this issue said she still did not fully know her way around it. The final complaint voiced by the locals, which I also agree with, is that there is not much beginner terrain. This forces novice skiers onto the blue runs, where they create moving hazards for others. If Heavenly could figure out a way to create a large beginners area, and grade all the traverses so that they are 100% downhill by just a few degrees, they would make all their customers happier.
To this list of the locals I would add another: the on-slope facilities, especially the mid-mountain and non-gondola base lodges, are in need of updating. Heavenly has clearly been putting their money into the gondola base area in the small city of South Lake Tahoe, right at the heart of the renowned nightlife district. While this is great for skiers who like to party, the gondola doesn't serve any ski runs: it just takes you to the mountain, and you'll need to take it back at the end of the day. The California base and Stagecoach/Nevada base are relics of a bygone era which demonstrate the challenges of Heavenly's distributed layout: it would be easier to keep one base area up-to-date rather than three or four. The only entrée available at a late lunch at the Sky Deck mid-mountain lodge on our second day was chili, because they had run out of everything else. Better facilities would make skiers happier.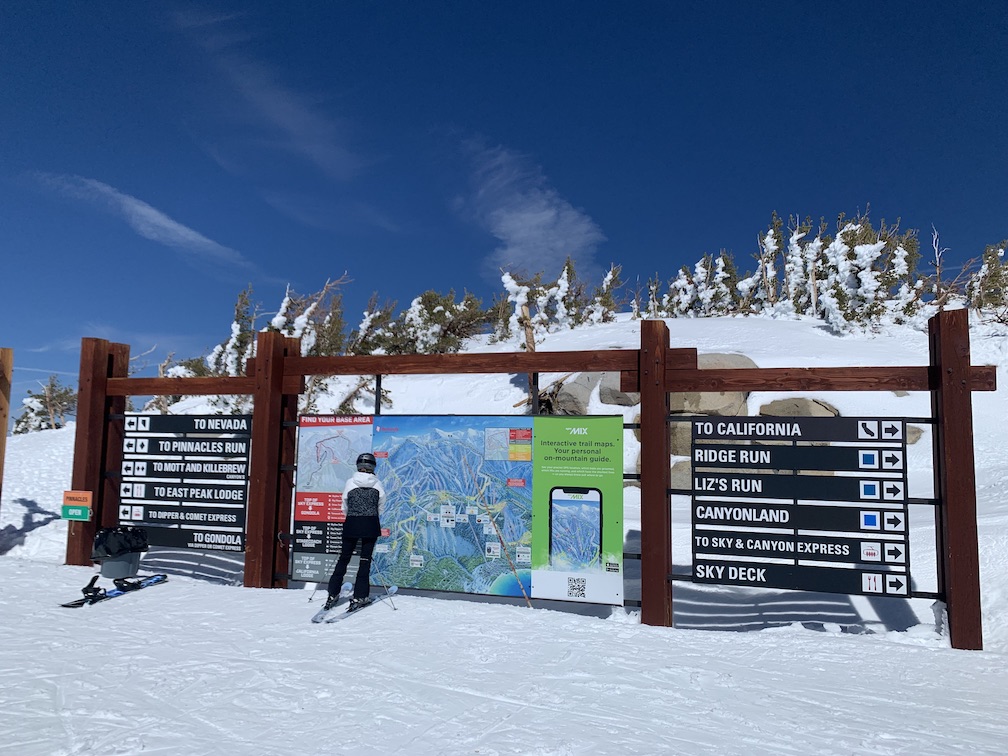 Other issues are probably due to the endemic and the resulting labor shortage. Not all the lifts were open on an April weekend with plenty of snow: we were looking forward to skiing the Galaxy lift, but it was closed. Our hotel near the California base, operated by Hilton, not only didn't have coffee in the lobby when I went down in the morning, but there wasn't anyone at the front desk either. Often the ski resorts in the West are staffed with workers from South America who come to the U.S.A. on temporary visas; given the uncertainty about California's COVID-19 restrictions, perhaps many of them decided to stay home or go elsewhere this ski season. The main reason my brother and I held off until 2023 to resume our annual bucket list ski trip was concerns about cancellations and what would actually be open. Even though we waited until 2023, we still experienced some of the endemic aftereffects. Hopefully next ski season is better.
We spent our final day skiing at Mt. Rose, known in the 1950s as Reno Ski Bowl. Its facilities are more modern than much of Heavenly's. For a non-resort day ski area, I was impressed. There was some quite challenging terrain that I stayed away from (the Chutes), and the ski area was bigger than I was expecting. Mt. Rose is a mere twenty to thirty minute drive from Reno, so it is popular with the locals. If I lived in Reno I would definitely have a season pass.
Our bucket list after our trip to Heavenly: Taos, Jackson Hole, Big Sky, Whistler/Blackcomb, perhaps Telluride, others.