Book review:
The Summer Game

, by Roger Angell

originally posted elsewhere: May 9, 2015

tl;dr: Delightful hot stove read for baseball fans of a certain age...

Roger Angell has a well-deserved reputation as one of the finest word craftsmen writing about the sport of baseball. Unlike much sports writing his prose is elegant, insightful, and never pretentious. His love of baseball and his appreciation for the rhythms of the sport shine through every piece collected in this volume, which covers the timeframe from the Giants' departure from New York to the Miracle Mets of 1969 and slightly beyond.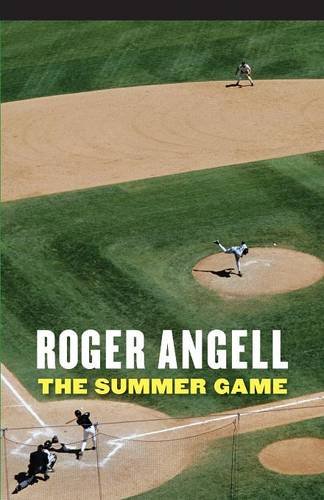 Angell originally penned these essays for The New Yorker where he apparently was given the task of producing a yearly essay on the state of baseball in New York City. Also sometimes stationed in the press box, he writes from the perspective of a fan in the stands. What is of most interest to Angell is not so much the action on the field but rather the reaction it provokes in the stands and on the streets and watering holes of the city. Over the course of The Summer Game the Mets provided Angell with a very compelling storyline, moving from beloved losers to world champions in the year that man first set foot on the moon.
The best essay in this volume is the last, entitled "The Interior Stadium", in which Angell expounds upon the timeless nature of baseball and the way the memories it produces reach across generations and become part of our collective experience. Baseball, like life itself, is an everyday experience (at least from the first signs of spring through the dying gasps of autumn). Although there are many other sporting diversions, nothing can match it in this respect. In this masterful essay Angell makes his case for baseball as our national pastime, and it is the best argument on this topic that I have ever read.
Serious baseball fans, and fans of fine writing, will enjoy The Summer Game, but because a lot of the action takes place in the 1960s it is bound to be appreciated most by fans who can remember that era either firsthand or a close secondhand (as in my case). I chose The Summer Game as my hot stove season read during this past off season, and found it to be a wonderful way to get ready for that most magical of phrases: "pitchers and catchers report".