Book review:
The O. Henry Prize Stories 2014

, ed. by Laura Furman

originally posted elsewhere: January 27, 2015

tl;dr: A richer harvest than usual...

Each year I read and can recommend the O. Henry and Best American short story anthologies as a great way for readers to be exposed to fine fiction writing from a wide variety of our present-day best authors. I can recommend The O. Henry Prize Stories 2014 with slightly more gusto than usual, as it contains a greater-than-normal number of excellent stories and only one dud, in my humble opinion.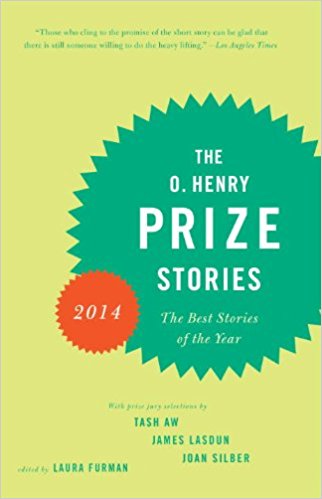 It has been several years since a short story so touched me as to make the investment in time to read a previously unknown author's longer works, but Robert Anthony Siegel may have achieved that milestone with his wonderfully insightful, intelligent story entitled "The Right Imaginary Person". Siegel's story probes the challenges of a cross-cultural love affair, and combines all the ingredients of a great story: memorable characters, an interesting plot, well-chosen words, and observations about the human condition that ring true.
Strangely none of the three stories selected as favorites of the guest editors earned a similar assessment from me. Innovation of technique appeared to be the editors' most important criterion, whereas my favorites were those stories that emotionally moved me the most. Given that we're all different, each reader is going to form his/her own set of judgments.
Besides Siegel's story, others that I enjoyed include:
"Good Faith", by Colleen Morrissey: Morrissey has created a fascinating microcosm that portrays the radically different world views of the secular and the religious, while being respectful and fair to both sides.
"Trust", by Dylan Landis: an all-too-plausible story above two juvenile criminals that actually speaks to deeper issues of power, control and trust in a relationship.
"West of the Known", by Chanelle Benz: a masterful period piece set in the Old West that, as the setting might suggest, concerns the ancient battle of good versus evil.
The one story I didn't particularly care for is Allison Alsup's "Old Houses", a very short piece that wasn't able to convey any important insights to me in its limited number of words.
The O. Henry Prize Stories 2014 is well worth reading if you want to explore the contemporary short story landscape.