Book review:
The Best American Essays 2014

, ed. by John Jeremiah Sullivan

originally posted elsewhere: January 17, 2015

tl;dr: A fine collection, in which much is revealed...

The final essay selections made by guest editor John Jeremiah Sullivan for the 2014 edition of The Best American Essays skew towards those in which the authors reveal intimate details of their lives. Two of the essayists probe the impact of being sexually abused; one essay concerns a very unfortunate premature birth; and drug use and other personal failings are mentioned in many others. Decades ago essays of this sort did not appear in esteemed publications, but given the openness of today's society, such fare has become common. Just be prepared that this is not your father's essay collection.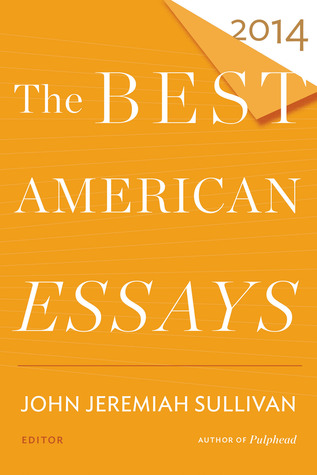 The finest, most educational and erudite essay is actually Sullivan's introduction, in which he details the history of the essay in both French and English literature and the dual meanings of the term "essay". Even with a David Foster Wallace-like single footnote which spans almost an entire page Sullivan's essay on essays is eminently readable and demonstrates the worthiness of Sullivan's choice to be guest editor for this year's volume.
Other essays which I enjoyed besides Sullivan's include:
"The Devil's Bait", by Leslie Jamison: Jamison crafts a sympathetic yet ultimately level-headed view of people who believe they are suffering from a skin disorder which the medical profession considers instead to be a mental illness. Among other things this essay shows that, given the ubiquity of the internet, there truly is an online community for just about every segment of the population.
"Thanksgiving in Mongolia", by Ariel Levy: Writing this essay, which must have been painful for Levy, still cannot begin to approach the pain, both physical and mental, of the event at the essay's core. This is the most hauntingly memorable essay of the collection.
Two essays which fell a bit short of the standard achieved by the others were "Someone Else", by Chris Offutt, which simply wasn't long enough to fully explore the troubling events described in the essay, and "Little X", by Elizabeth Tallent, which I found to be too oblique.
All in all the 2014 edition of The Best American Essays is satisfying brain food and well worth the time invested to consume it.