Book review:
The Guns at Last Light: The War in Western Europe, 1944-1945 (The Liberation Trilogy)

, by Rick Atkinson

originally posted elsewhere: August 31, 2014

tl;dr: Worthy conclusion to a trilogy well worth reading...

If you have consumed the first two volumes of Rick Atkinson's The Liberation Trilogy, then by now you certainly know what to expect in the finale, which covers the Normandy invasion to V-E Day. The Guns at Last Light is written in the same manner and upholds the same high standards as the first two volumes. All three volumes together represent a monumental achievement in popular historical literature. If there was one set of books that could be made required reading for all American citizens about World War II in Europe, The Liberation Trilogy might be the best choice.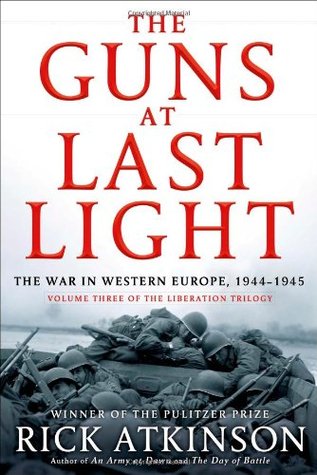 As he has done before, Atkinson covers the war from the perspective of all participants, from the soldiers in the foxholes to the generals and political leaders, as well as the citizens caught up in the carnage. He covers all the major events of the military campaign, focusing in more detail on certain key battles. He synthesizes his storyline from an extremely broad variety of sources, including military documents, letters written by participants in the war, news media of the time, and other histories. His extensive footnotes demonstrate that, for every page Atkinson wrote, he read and distilled many other pages of source material. Presumably this is why it took him so long to write and publish all three volumes, but the result has been well worth Atkinson's time and effort.
World War II, more than any other event, reshaped the political structure of the twentieth century world. Even today, seventy years later, its echoes appear daily in the front page news headlines. It is well worth studying, and Atkinson's trilogy is well worth reading, to understand how evil can rise and threaten the very existence of civilization, and what it takes to defeat evil once it takes root and spreads. It wasn't until the end of the war in Europe, after the Allies and Soviets had overrun Nazi concentration camps, that the participants realized just what is was they were fighting and how important it was that they succeed. Fortunately, they did.