Book review:
Strange Stones: Dispatches from East and West

, by Peter Hessler

originally posted elsewhere: March 24, 2014

tl;dr: If you haven't yet read Peter Hessler, this is a great way to start...

Peter Hessler has a gift for storytelling that starts with truly listening to his subjects, who are mostly average everyday people in foreign environments (to them, to Hessler, and to us as readers). Through straightforward, non-judgmental language he tells their stories in a compelling, highly readable form. The end results are pleasant vignettes that, while not comprehensive in scope, wonderfully illuminate aspects of what the subjects are experiencing and what we can learn about and from them.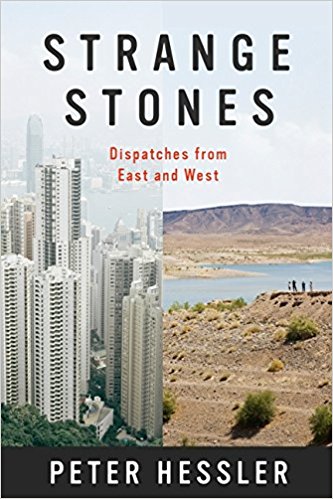 Strange Stones might more accurately be called "Strange Stories", because it is a collection of essays that spans Hessler's career to date and which focuses on Hessler's preferred subject matter, offbeat characters in unfamiliar circumstances. For those who have not yet read any of Hessler's work, Strange Stones is the perfect introduction to Hessler as it spans his entire professional writing career to date, which started when he was a Peace Corps volunteer in China. To someone such as myself, who has read each of Hessler's prior books, Strange Stones covers familiar territory, and in it I recognized the seeds of what became each of Hessler's prior books. But for a Hessler fan like myself this was territory worth revisiting, and I enjoyed the stories that were both old and new to me.
It would be hard to pick a favorite story. "Dr. Don" is fantastic, but as that one contains a surprise revelation at the end that was already known to me from a prior reading, it was the one story that lost a little on the retelling. "The Uranium Widows" does a great job of conveying truths that many who live far beyond the mining towns of Colorado will not like to hear, and it does so in typical Hessler fashion, by telling the thoughts and feelings of everyday people. Even when Hessler writes about a major event, such as the 2008 Beijing Olympics in "The Home Team", the story ends up focusing on the father of a Chinese athlete sitting by himself in the very last row of a sports arena.
Hessler's first three books cover the decade he spent in China. Stories like "Dr. Don" and "The Uranium Widows" prove that Hessler's talents for deeply understanding and empathizing with his subjects transcend national boundaries. Now that Hessler has moved out of China and on to Egypt, according to the bio on Strange Stones, I look forward to future essays and books from Hessler about everyday life in the modern Arab world.