Book review:
Sox and the City: A Fan's Love Affair with the White Sox from the Heartbreak of '67 to the Wizards of Oz

, by Richard Roeper

originally posted elsewhere: November 17, 2007

tl;dr: Passionate White Sox fan's view of recent Sox history, through 2005...

Thank goodness the White Sox have southside Chicago native Richard Roeper as a fan! The Cubs and other more popular MLB teams have a much longer roster of both author/fans (e.g. Stephen King and the Red Sox) and A-list celebrity/fans (of which the White Sox have none - sorry Jerry Springer, you're B-list). But the White Sox, with their long, interesting history and their amazing 2005 World Series run, needed someone to step up to the plate and deliver what the fan base needs: a book documenting what it means to be a White Sox fan in the four decades up to 2005. Roeper delivers a solid home run, albeit not a grand slam.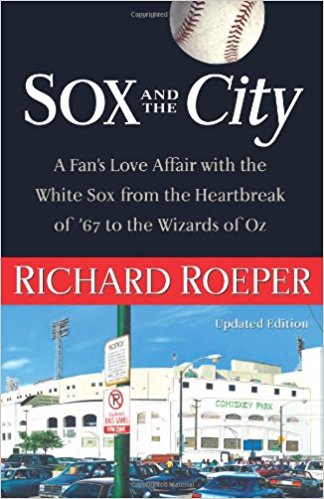 Roeper deftly interweaves three main storylines in Sox and the City: the highlights of the past 40 years of Sox history; Roeper's own personal experiences as a fan attending more than 1000 Sox games; and the highlights of the 2005 season and World Series run. Along the way Roeper provides a personal, often humorous view of the main topics in Sox history: the different Sox teams that have been assembled over the years; what it means to be a Sox fan in what will always (unless the demographics of Chicago change radically) be a Cubs town, including especially the Sox/Cubs rivalry among the fans (which, because of geography is more passionate - at least on the Sox side - than any other intercity major league rivalry); Harry Caray's move from the Sox to the Cubs; Bill Veeck's attempts to generate excitement (and bring in paying fans) on the southside; Disco Demolition Night; the move from Comiskey to the Cell; and much more.
There is so much White Sox history that it is impossible to capture it all in a single volume, but Roeper hits all the highlights. His prose is very accessible, humorous, and direct. Sox and the City is likely to become the definitive guide to what it means to be a White Sox fan in the present day.
Why only four of five stars in my rating? Roeper's done an admirable job in all areas of the book except two: explaining precisely what made the 2005 team different than all other White Sox teams, and capturing the excitement and impact of the Sox's 2005 World Series victory on the city of Chicago. Perhaps the latter is an impossible task to translate into words - you had to be there.
All literate White Sox fans should read this book.