Book review:
The Best American Short Stories 2013

, ed. by Elizabeth Strout

originally posted elsewhere: February 24, 2014

tl;dr: A decent vintage...

If I only had room to pack one 2013 volume of short stories for a trip, I would be hard pressed to choose between The Best American Short Stories and The O. Henry Prize Stories anthologies. Although both purport to select the best twenty short stories published within a given year, there is not a single short story that appears in both volumes, thereby demonstrating the inherent subjectivity involved in selecting the best works of art. Additionally, each anthology included a different selection from esteemed short story author Alice Munro, so there was not even concurrence about which was Munro's best story of the year. But in the end it doesn't matter which of these two anthologies you select, as they are equally good. If you have room in your luggage, bring both.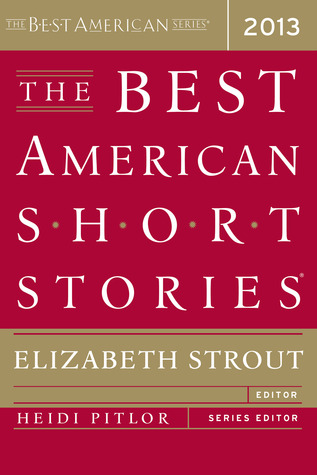 Guest editor Elizabeth Strout produced a volume with one masterpiece, several other gems, a fair number of fine stories, and a few that had me puzzling over their inclusion. The best stories, starting with the masterpiece, were:
"The Provincials", by Daniel Alarcon: This inventive story, about returning to a small hometown for a visit, morphs from a straightforward narrative to a screenplay and back, and in the process creates very memorable characters and conveys some deeply felt emotions in an enchanting manner.
"Magic Man", by Sheila Kohler: Although the main event in this story is a horrific one, no story in this book will evoke a stronger reaction from readers than this portrayal of the powerful preying on the innocent.
"The Semplica-Girl Diaries", by George Saunders: This story, which might be classified as a piece of mild science fiction because it relies upon a not-yet-invented medical procedure, is actually an strong indictment of our present consumer society and the tension between the First and Third worlds.
The two stories I enjoyed the least, Jim Shepard's "The World to Come" and Michael Byers' "Malaria", didn't make any real impression on me at all; they were merely words on a page.
As always I recommend short story anthologies as an excellent way to expose yourself to a group of authors. If you have an appreciation for literature I am sure you will find multiple works to your liking in The Best American Short Stories 2013 anthology, regardless of your particular tastes.