Winless in Seattle (so far) – my trip to Safeco
originally posted elsewhere: May 7, 2011
tl;dr: An innovative retractable roof design combined with Pacific Northwest food, beverages, and hospitality make Safeco a wonderful place to watch a game...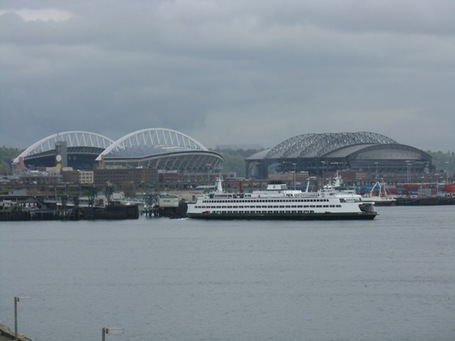 Business had me in Seattle for the first time in many years Friday, so I took advantage of the Sox being in town to make another notch in my MLB stadium belt. Before I left Chicago I bought a seat for $45 plus fees on Stubhub about 20 rows behind the Sox dugout, slightly below face value as the Mariners appear to be headed for another season of mediocrity or worse.
It was, however, Ichiro bobblehead night...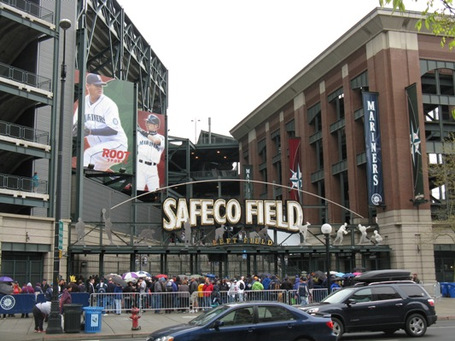 ...and that had giveaway-crazed Mariner fans lined up outside the gates in the Seattle drizzle more than three hours before first pitch. Maybe the Sox "promotion night" ticket plan will tap into a similar demographic and bring more fans into the Cell - I have no idea - but Ichiro night brought in a crowd of over 31,000 for a team averaging 18,000. As a baseball fan I appreciate Ichiro's accomplishments and longevity (and also that he was not a major factor in tonight's game, as it turned out), but I headed for a bar across the street instead of the blocks-long line. After watching the Twins light up Wakefield for a few innings on TV (which was not a good start to the baseball night - how come we draw King Felix tonight and the Twins get a subpar aging knuckleballer?), I waited for the line to dissipate, entered the stadium, and claimed my bobblehead. They had plenty.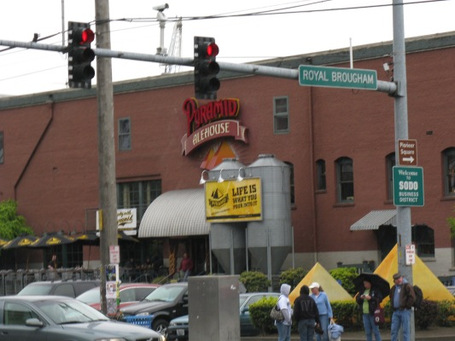 The Safeco roof was closed to keep out the drizzle, and it is an impressive piece of machinery, as it runs on tracks that stick out beyond the stadium building out in right field. It rarely rains hard in Seattle - it just drizzles nearly nonstop - and they may very well have played the game in the same conditions in the Cell - but it wouldn't have been pleasant to sit in for three hours. The stadium is on par with other recently constructed gems and feels like a more open version of Miller Park, since the roof does not seal off the stadium in left field and the marine fog can even roll in. The other main distinguishing feature of Safeco is the beer selection. For those of you who love sampling a wide variety of microbrews, there is no better place in the country than the Pacific Northwest, and the Mariners sell many local microbrews inside the park (at steep prices, unfortunately - $9 to $11 - although the higher alcohol content offsets that, for those of you who compute dollars-to-buzz ratios). The food selection is wider, higher-end and more expensive than the Cell. And gosh, the people are so friendly and polite. I was one of about 20 Sox garbed fans I saw, and I had my retort ready for any Mariners fans who started to give me guff: "You should be very happy your Mariners are playing the Sox right now".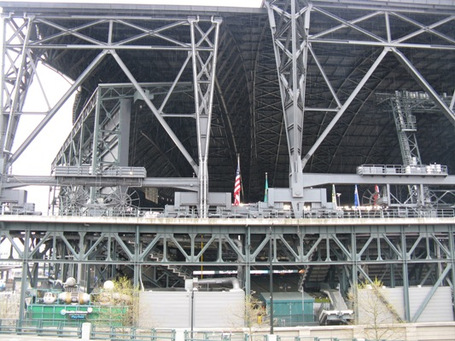 Since it was still well before first pitch and the visiting team takes batting practice last, I got to watch the Sox run through their BP routine. They bat in trios, starting with the "on base top of the order" guys (JP, Missile and Bacon on this night), then the "middle of the order power" guys (Q, Donkey and Kong), then the "we'd be higher up in the lineup if we were hitting better" guys (Rios, Teahen, Blastro), etc. The batters start with bunts and each time through the rotation try to hit the ball farther, until they are trying to spray home runs to all fields on their last few tries. The infielders field their positions and Joey Cora gives them extra ground balls in between BP pitches, and the pitchers who shag flies in the outfield generally goof around and try to make behind-their-back-over-their-head catches. Since I rarely see the Sox take BP, I watched intently and decided I would make my "pick to click" based on who was hitting it the best in BP. On this evening that would be Teahen, who must have hit 10 over the fence to all fields, especially the 326 foot porch in right, his pull field. Hmmm, I thought: Teahen's killing it, he's got the righty-lefty thing versus King Felix, and the right field stands are reachable - he's going to be our hero tonight! Naturally, as it turned out, he was 0 for 3 with two Ks.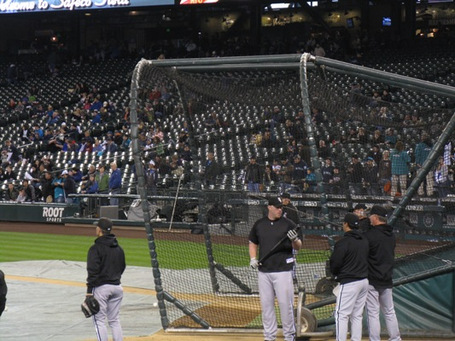 Onto the game itself, which I thought would be a low-scoring Sox-fan-murderer as long as Humber was still on his game and did not do a Jeckyll-and-Hyde morphing a la EJax. Sure enough Humber was very good (we need to keep this guy in the rotation when Peavy comes back), and the Mariner bats were very quiet as per usual, with Humber's only problem being the sixth, when he walked Ichiro and gave up two doubles for two runs. Props to Q for tying it with a solo shot, but King Felix got the big outs when he needed to, and the game entered the eighth tied, which definitely was sudden-death next-team-that-scores-wins territory. The Sox used to know how to win games like this back in 2005, even on the road (does anyone remember Games 3 and 4 of the World Series?) but the recent track record is abysmal, and I braced myself for the worst, especially when Ozzie brought in our 0-2, 0 saves, 4 blown saves "closer", Matt Thornton, for a very high leverage appearance.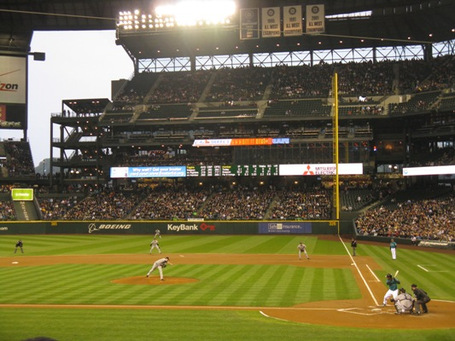 Was this loss due to trying to hard? Quite possibly. Ozzie tried hard to restore Thornton's confidence by bringing him in and letting him pitch two innings. Beckham definitely tried too hard, making a hugely demoralizing base running error in the eighth by starting towards home when the Missile grounded sharply to a drawn-in infield and the shortstop threw behind Beckham to pick him off third (didn't Kenny run Pods version 2 out of town and bring in JP because Pods cost the Sox a game in Safeco by also getting picked off third - or at least that became the prime example of Pods' poor baserunning?). And Thornton tried, but the results just weren't there once again - he gave up the game winning single (the third of the inning) to the Mariners' sub-.200 hitting ninth place hitter who came into the game in a 1 for 23 slump. Ozzie may believe that mental problems can be solved with beer and vodka, but I think there is something wrong with Thornton that a trip to the couch might help solve - certainly he's once again lost confidence.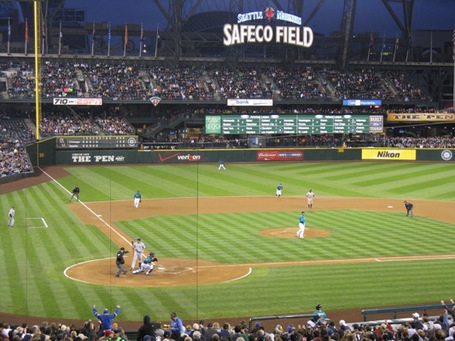 Rather than watch yet another mediocre team celebrate our ineptitude (I was also at Liriano's no hitter this week), I high-tailed it out of the stadium. Listening to Mariners' radio on the drive to the hotel, I was put off by all the "awesome win - aren't we great - we've turned our season around" talk, so I texted them a message which basically said "the Mariners are not so great, they beat a team in a profound slump that's inventing new ways to lose". The announcers read my text verbatim on the air, but not knowing who I was, they called me a pessimistic Nervous Nellie Mariners fan (these announcers would never be able to handle Chris Rongey's job). That, plus the other pleasures of the evening aside from the last two innings of the game, made my trip to Safeco ultimately satisfying.