Book review:
Chicago White Sox: 1959 and Beyond

, by Dan Helpingstine

originally posted elsewhere: December 8, 2012

tl;dr: Passionate remembrance of White Sox moments of glory from 1959 - 2004...

Dan Helpingstine is a true White Sox fan, and he writes from the heart in Chicago White Sox: 1959 and Beyond. The book recounts the greatest players, teams, performances, and games from the years 1959 up to 2004. At 128 pages in length the book is not meant to be an exhaustive history of the White Sox during those years. Rather, it just covers the highlights of those years and the most important stories from them that are still told today among White Sox fans. Serious White Sox fans will mostly agree with Helpingstine's selections, with perhaps a few quibbles (e.g. the book contains more pictures and words about Bill Melton than Frank Thomas).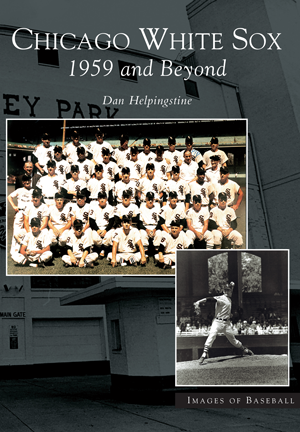 To create his book Helpingstine searched his archives and those of a few other serious White Sox fans, and interviewed a few players, front office personnel, and some other fans. Helpingstine is not necessarily aiming for historical completeness; rather, he aims to recount the stories that are of most interest to White Sox fans. His passion for the White Sox comes through in his writing, although the prose is awkwardly worded in spots and could have benefited from a more thorough proofreading.
The roughness of the prose is the biggest drawback, but what pushed my opinion of this book into the positive are the great photos that it includes. The photos are all in black-and-white, but they are almost uniformly top-notch: any one of them would look right at home on the wall of a sports bar on the south side of Chicago, with a player autograph or two on it. Helpingstine did a great job rounding up the collection of photos in this book, and they alone will bring back many great memories for White Sox fans.
Chicago White Sox: 1959 and Beyond should please White Sox fans. It will trigger positive memories for older fans, and educate the younger ones on some of the lore of their favorite team.