Book review:
The Best American Short Stories 2012

, ed. by Tom Perrotta

originally posted elsewhere: November 26, 2012

tl;dr: A worthy read, as usual, but not one of the all-time best volumes...

As always I recommend short story anthologies as an excellent way to gain exposure to a wide variety of some of the best of today's authors. Perhaps I wouldn't do so if I ran across a volume of mostly duds, but that hasn't yet happened. In his introduction to the 2012 Best American Short Stories volume, guest editor Tom Perrotta claims to have assembled a collection of nothing but great stories from an excellent year's crop. While I wouldn't say he has achieved that lofty standard, I did on balance enjoy this year's selections.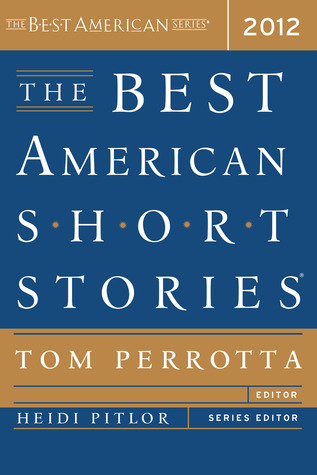 Since beauty (and art) are somewhat in the eye of the beholder, everyone will have his/her own set of favorite stories - my favorites were:
-- Roxane Gay's "North Country", a powerful story about an unlikely matched pair of lovers. Themes of rejection/acceptance, community and environment add complexity, nuance and meaning to the story and elevate it above the other selections in this volume.
-- George Saunders' "Tenth of December", which features three memorable strong-willed characters and explores the issues of quality of life and whether it is best (or even understandable) to take one's life once one has become a burden to others. Plot is not as important an element in short stories as it used to be back in the heyday of O. Henry, but this story features a gripping plot that propels the reader to the conclusion.
-- Steven Millhauser's "Miracle Polish", a story with an intriguing element of fantasy that nevertheless illustrates some real-world truths about relationships and self-image.
-- Lawrence Osborne's "Volcano", which also uses fantasy to set up situations which push the main character to learn more about herself than she does in the real world.
-- Sharon Solwitz's "Alive", a moving story about three family members dealing in various ways with an unspoken tragedy.
Most of the other stories were enjoyable but not quite as memorable as the ones listed above. There were, however, a few duds: Taylor Antrim's "Pilgrim Life", which featured an aimless main character and didn't convey anything meaningful to this reader; and Angela Pneuman's "Occupational Hazard", which also left me asking what the point of the story was.
All in all, whatever dollars you spend to buy The Best American Short Stories 2012 will be paid back to you many times over in hours of reading enjoyment.