Book review:
The Life Before Us ("Madame Rosa")

, by Romain Gary

originally posted elsewhere: October 15, 2012

tl;dr: A masterpiece of the human condition...

The best fiction touches the reader's mind and heart in many ways, and deeply. It should illuminate and illustrate important truths about the human condition. It must seize the reader's attention from the very beginning and hold it throughout, relinquishing it only upon reaching a satisfying conclusion. It must entertain, and ideally contain both humor and heartfelt moments. The writing should be crisp with not a word wasted, and it should contain many quotable passages and thoughts. But above all it should be a work that permanently lodges itself in the reader's mind, to be referred to years in the future. Romain Gary's (Emile Ajar's) prize-winning masterpiece The Life Before Us is all of these and well worth reading today, more than 35 years after its original publishing date.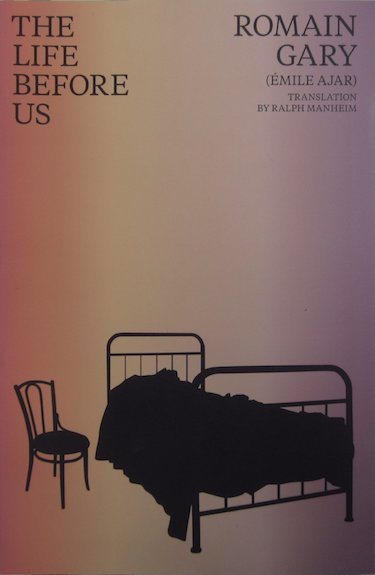 The Life Before Us is many things simultaneously. It is first and foremost a love story between a most unlikely couple, the young boy Momo and his aging caretaker Madame Rosa, who are two of the most memorable characters that you will find in any fictional work. They are thrown together by circumstance but choose to persevere together through many hardships. The Life Before Us is a portrait of the underbelly of society, showing how people traditionally shunned by those in polite society band together amid harsh circumstances to help each other survive. There is also a political undertone to The Life Before Us, as the book presents some challenging case studies on topics such as vice laws, the treatment of immigrants and the elderly, and euthanasia. But above all, The Life Before Us poses and attempts to answer the question continually asked by young Momo: is it possible to live without someone to love?
I am hard pressed to identify a single flaw with The Life Before Us. Romain Gary doesn't waste a word, and packs a tremendous number of thoughts and observations into a relatively small number of pages. The plot, albeit macabre at the end, makes perfect sense. The characters are believable, and the dialogue is appropriate for them and the setting. The Life Before Us could easily serve as a model novel in a writing class.
I thoroughly enjoyed The Life Before Us. It is not for the squeamish or those seeking a G-rated upper-crust parlor game story. But if you are an adventurous reader with worldly views, you should find The Life Before Us to be an immensely satisfying read.