Book review:
The PEN/O. Henry Prize Stories 2010

, ed. by Laura Furman

originally posted elsewhere: December 16, 2010

tl;dr: A strong collection, with just a few duds...

Laura Furman has once again assembled a strong collection of short stories as she settles into her role as series editor. I have been reading the O. Henry Prize Stories anthologies for every year starting with 1996, and I continue to look forward to the publication of each new year's volume. Short story anthologies such as the O. Henry series are a wonderful way to get exposed to a wide variety of authors. Occasionally the stories push the short story form into new directions, such as Ted Sanders' story "Obit" and John Edgar Wideman's "Microstories" do in this year's volume. This year's collection has a few absolute masterpieces, a good number of enjoyable, memorable stories, but unfortunately a few duds that dragged down my overall rating slightly.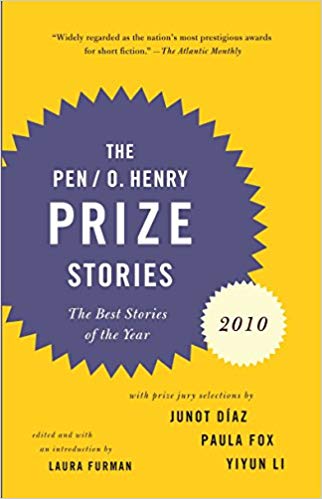 The stories that I especially liked include:
--"Them Old Cowboy Songs" by Annie Proulx: you won't soon forget this tale about the eternal battle of man versus nature, as illustrated by the challenges a young couple faces establishing a new home and family in the wilderness.
--"Oh, Death", by James Lasdun: a near-perfect short story in the classic O. Henry style, complete with an interesting plot twist at the end. Lasdun creates some very compelling characters to illustrate the impact of civilization encroaching on the wilderness and especially the pioneers who live off the land.
--"Into the Gorge", by Ron Rash: a haunting story about how times have changed and what we all may have lost by ceding too much power to bureaucratic authorities.
The duds included Peter Cameron's "The End of My Life in New York", which I felt was focused on nothing more than ephemera, and Alice Munro's "Some Women". I am looking forward to a future volume of the O. Henry stories that does not automatically include an Alice Munro story.
Having read both the 2010 O. Henry Prize Stories and the 2010 Best American Short Stories, I can emphatically state that if you are trying to choose between the two, you should pick the O. Henry volume. The stories in this year's O. Henry volume are more creative, imaginative, memorable and artistic than this year's Best American Short Stories.