Book review:
The PEN/O. Henry Prize Stories 2009

, ed. by Laura Furman

originally posted elsewhere: October 4, 2009

tl;dr: 2009's collection is not the best ever; some gems, a few duds...

I was hopeful that this year's O. Henry Prize Stories anthology (which adds the PEN organization to its title and support) would be one of the best ever, since I thoroughly enjoyed the first two stories in the volume. Editor Laura Furman tends to gravitate towards stories of dark themes, which can lead to an anthology with less than mass market appeal, and yet the first two stories were very gripping. Alas, over the course of the volume, I felt there were a few duds that reduced my overall rating to four stars.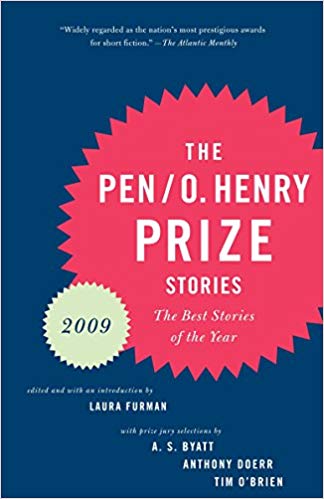 Different stories will appeal to different people for different reasons. Here are the stories that appealed most to me:
--Graham Joyce's "An Ordinary Soldier of the Queen": surprisingly, I agree with two of the three prize jurists, who selected this story as the best in the collection. It hooks and keeps the reader's interest, works on several levels, and progresses at an even pace from well-grounded reality into schizophrenic madness. It's not quite an all-time classic story, but definitely worth reading.
--Paul Theroux's "Twenty-two Stories": just as the name would suggest, this short story consists of twenty-two roughly one page stories, each of which presents the germ of an idea that an author could elaborate and build upon to create a traditional length short story. The very interesting thing is how well each of these microscopic stories works on a stand-alone basis - think of them as highly concentrated, distilled stories, such as might be told around a campfire.
--Kirsten Sundberg Lunstrum's "The Nursery": a well-disguised horror story about a mother's suffocating love, and how her attempts at protection backfire.
Stories that I thought not worthy of inclusion: Roger Nash's "The Camera and the Cobra", which I thought lacked depth and meaning; L.E. Miller's "Kind", whose main subject is a deeply flawed woman who unfortunately triggered too many negative memories for me; and Manuel Munoz's "Tell Him about Brother John", which to me was the type of dry, dispassionate short story that only an academic reader could appreciate.
As always, I encourage readers to seek out short story anthologies such as the PEN/O. Henry Prize Stories and the Best American Short Stories as an ideal way to become exposed to a wide variety of authors and quality fictional writing.