Book review:
The O. Henry Prize Stories 2005

, ed. by Laura Furman

originally posted elsewhere: January 1, 2006

tl;dr: Another fine assortment of dark chocolates...

In her second year editing the O. Henry Prize Stories, Laura Furman once again demonstrates a preference for stories of a tragic, dark nature. "Mudlavia", the first story in the book, concerns a boy's broken family and a life-threatening disease. It is followed by stories whose subject matter is apparent from their titles: "The Brief History of the Dead", "The Golden Era of Heartbreak", "The Hurt Man". Other stories in this collection include "Desolation", "Snowbound", and "The Drowned Woman". So, if lighthearted entertaining reading is what you seek, you are advised to look elsewhere. If, however, you want to read well-written short stories of substance, which are actually not as depressing as one might fear, then I definitely recommend the 2005 edition of The O. Henry Prize Stories.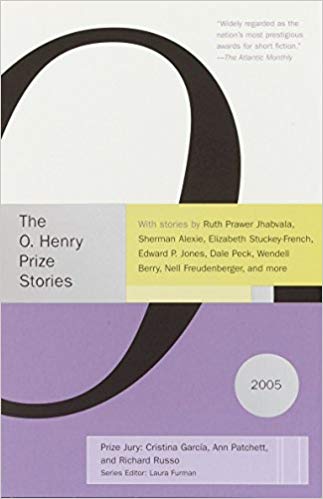 My favorite story in this year's collection is Ben Fountain's "Fantasy for Eleven Fingers", an exceedingly well-crafted story about the tribulations of an unusually endowed pianist caught up in the religious and political hostilities of turn-of-the-20th century Europe. The story reminds us that, try as we might, we cannot completely separate art and beauty from the gritty realities and problems of the world. Other favorites of mine include the aforementioned "Mudlavia" by Elizabeth Stuckey-French, and Edward P. Jones' "A Rich Man", which also appeared in the 2004 Best American Short Stories anthology. Each of these stories is entertaining and captures the reader's interest, while at the same time conveying important ideas and observations about the human condition.
The 2005 edition of The O. Henry Prize Stories has four stories in common with the 2004 Best American Short Stories collection. Both anthologies contain stories published in 2003, but The O. Henry Prize Stories folks skipped 2004 and are now two years off in their numbering scheme. Given that the 2006 edition (covering stories published in 2004) is not due until May of 2006, it appears that Laura Furman and company are falling further behind in their reading. I hope they can catch up, as I enjoy both anthology series. If you can read only one, choose the Best American Short Stories if your tastes tend towards more popular writers and slightly lighter fare. Choose The O. Henry Prize Stories if you are seeking a more complete examination of the dark side of human affairs.