Book review:
The Best American Essays 2011

, ed. by Edwidge Danticat

originally posted elsewhere: December 31, 2011

tl;dr: Eclectic variety leans towards very good, with a few great essays...

As is often the case in the Best American series, Edwidge Danticat exercises her power as guest editor of the 2011 volume of The Best American Essays to make selections which appeal to her tastes, either because of the background of the author, the subject matter, or the viewpoints expressed within. This is a natural human tendency, and many readers say it is one of the chief appealing aspects of the Best American series. Fortunately I do not think Danticat has sacrificed too much on quality in making her selections, nor do they adhere to a single, narrow political view of the world. There is a decent variety of authors and topics, and aside from a couple duds, the quality level is very good overall, with a few standouts.

Minority authors are well represented, as is the topic of sex of various shapes and sizes. In fact I daresay this volume should come with an "Explicit Language" label on it; just be forewarned if you are considering passing this along to a young high school student as an example of the craft of the essay. Victor LaValle in particular, in the essay "Long Distance", confesses to behavior that you don't often see discussed in polite company.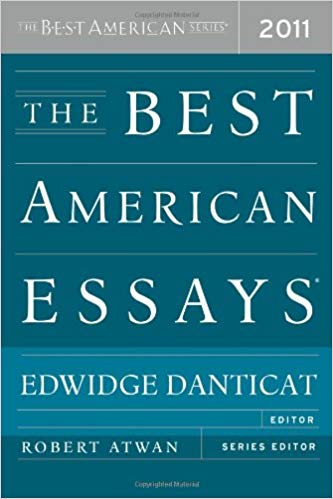 The best essays, in my opinion were:
-- Katy Butler's "What Broke My Father's Heart" probably should be required reading for all adults contemplating the instructions they want to leave to others to guide the medical care they receive at the end of life, as it presents a realistic, eye-opening view of the issues created by how the medical care system in the U.S. treats the elderly.
-- Pico Iyer's "Chapels" demonstrates the importance of quiet contemplation in our ever-accelerating information overload society.
-- Charlie LeDuff's "What Killed Aiyana Stanley-Jones" is a caring, personal view of the dysfunction that is present-day Detroit, the many sources of that dysfunction, and the impact it has on residents' lives.
-- Zadie Smith's "Generation Why?" puts Facebook into both a sociological and philosophical context, and demonstrates the flaws and limitations of social networking.
These four essays had all the characteristics of a fine essay: interesting subject matter, good pacing, and writing that appeals to the heart as well as the mind. By contrast the two dud essays, Paul Crenshaw's "After the Ice" and Susan Straight's "Travels with My Ex", even though they both discuss serious issues, didn't move me at all.
I usually find The Best American Essays series to be a tasty sampling of brain food, and the 2011 volume, while not one of the all-time best, still satisfies. I will be back for more, next year.