Book review:
The Best American Short Stories 2010

, ed. by Richard Russo

originally posted elsewhere: December 12, 2010

tl;dr: Sub-par year...

A selling point of the Best American anthology series is that a guest editor makes the final selection of pieces from a larger pool that has been winnowed down from all submissions by the permanent series editor. Quite often the selected works do indeed mirror the guest editor's interests, style, genre, and political and world views. Given that, I braced myself to be less-than-thrilled with The Best American Short Stories 2010, since the guest editor is Richard Russo. I did not care for Russo's supposed masterpiece Empire Falls, and couldn't understand what the Pulitzer judges saw in it when they awarded it the Pulitzer Prize. To me, Empire Falls never made any grand observations or statements about the human condition and was nothing more than a chronicle of fairly trivial lives being led by downtrodden inhabitants of a city in decline.

Unfortunately for me, The Best American Short Stories 2010 edited by Russo met my lowered expectations. To be sure there was one masterpiece short story and several very good ones, but I felt too many of the stories were either decent but not memorable, or worse, stories that caused me to ask the same question I asked about Russo's Pulitzer Prize winning book: "Why in the world was this work selected?" In general, my opinion of the stories that I rated average or below matched my main impression of Empire Falls, which is that the stories failed to connect to any deeper truths about humanity.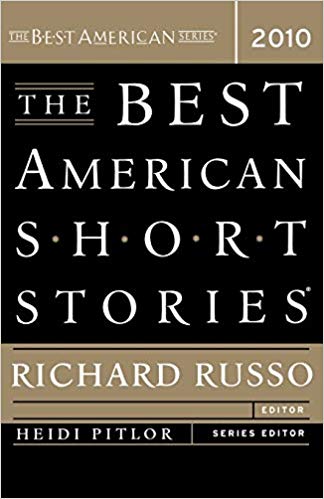 One story was everything a short story should be: a gripping plot that holds the reader's interest throughout, with an O. Henry-like twist at the end; well chosen wording, especially when describing characters very different from the author's socio-economic background such that the characters come to life; no extraneous words or passages; and most important, a "moral to the story" so that the story speaks to an important aspect of the human condition. All this applies to James Lasdun's story "The Hollow", which focuses on the three-way conflict created between nature, the original live-off-the-land inhabitants of a mountainous area, and encroaching professional people representing the progress of civilization. This story is a classic that will stand the test of time.
Other favorite stories of mine:
-- Steve Almond's "Donkey Greedy, Donkey Gets Punched", which also has a great O. Henry twist at the end, and which teaches some lessons about human behavior by describing the conflict between a hardboiled professional poker player and the psychologist who treats him.
-- Lauren Groff's "Delicate Edible Birds", which boils down the major conflicts at the heart of World War Two into a story about a small group of journalists escaping the Nazi occupation of Paris, and which poses a very difficult question of ethics.
-- Maggie Shipstead's "The Cowboy Tango", a love triangle set on a ranch in Montana that probes deeply into the nature of love, trust, and romantic love as contrasted with animalistic urges.
My least favorite story was Kevin Moffett's "Further Interpretation of Real-Life Events", which I thought might only appeal to a fellow author because of its focus on writing and points of view. Another that I disliked was Karen Russell's "The Seagull Army Descends on Strong Beach", which I felt was a strange combination of a coming-of-age story with a sibling rivalry story with an element of the fantastic mixed in (a seagull infestation) - I didn't see the point at all.
If you are an occasional reader of short story anthologies, then I recommend that you try a prior year's volume. If you are, like me, a regular reader of the Best American Short Stories anthologies, then I guess you will be reading this year's volume anyway - but if you are going to skip a year, now would be a good time to do so.