Book review:
The Best American Short Stories 2007

, ed. by Stephen King

originally posted elsewhere: December 7, 2008

tl;dr: A worthy, diverse collection, but not quite enough gems to earn 5 stars...

Every year I read both "The Best American Short Stories" and "The O. Henry Prize Stories", which both attempt to accomplish the same goal: collect the top 20 short stories published in North America in a given year. The highly subjective nature of this endeavor is proven by the fact that there is very little overlap in the stories chosen for each anthology (typically only one, or perhaps two). Nevertheless, I view each collection as a great way to read the works of a variety of authors, and I always end up recommending each volume to readers seeking a sampler of well-written short stories. The Best American Short Stories 2007 is no different; I recommend it, although I wouldn't rank it as one of the top volumes over the past decade.

2007 guest editor Stephen King made the final selection of the twenty stories included in this volume. The guest editor in the Best American series often selects works that are within that editor's style or genre. Hence you might expect this volume to contain twenty horror stories, but instead, Stephen King does an admirable job of selecting a wide variety of different stories. As his introduction demonstrates, King has a true love of reading and short stories, and the stories selected roam far and wide from King's home turf of the horror genre. The two aspects of Stephen King's style which I felt crept into this volume are a preference for long works, and (in some of the stories, such as Richard Russo's "Horseman"), a lack of polish in the wording, perhaps indicating that the stories were written quickly or without a strong editor analyzing every word.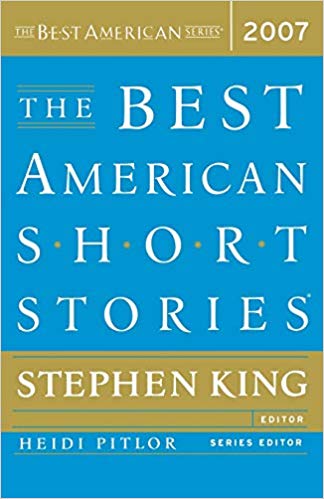 My favorite story in this volume, and the one that I feel combines all the elements of a great short story, namely a gripping plot with a twist at the end, interesting characters, some deep lessons about the human condition, and precise, well-chosen wording, was T.C. Boyle's "Balto". This story alone is worth the price of the book; think of the others as a bonus that you get for free. John Barth, who has been writing smartly and satirically about society and interpersonal relationships for nearly half a century, shows that he still has all his powers in "Toga Party", which not only has a great plot twist at the end, but an absolutely perfect last sentence.
Other stories that I enjoyed included: Roy Kesey's "Wait", which, although it quickly jumps into the realm of the fantastic, illustrates a very interesting microcosm for international relationships; and two stories that obviously had a lot of research put into them, to recreate eras of history: Lauren Groff's "L. DeBard and Aliette: A Love Story", and Jim Shepard's "Sans Farine". The dud of the book, I felt, is Kate Walbert's "Do Something", a forgettable anti-war tirade. The book also contains the obligatory Alice Munro selection; she obviously appeals to some (or many) people, but not so much to me, although "Dimension" is indeed one of the more interesting Munro stories that I've read over the years of reading these short story anthologies.
So, while not the best volume ever in this series, I do recommend The Best American Short Stories 2007.