Book review:
The Best American Short Stories 2003

, ed. by Walter Mosley

originally posted elsewhere: December 7, 2003

tl;dr: A vintage sampler...

I don't think you can go wrong reading either the Best American or the O. Henry short story anthologies; I read both each year. It's somewhat surprising that they are not more popular, since they expose the reader to a wide variety of the best writers and writings, and since short stories can be easily fit into the busiest of lifestyles, especially plane and train rides.

Having now read both 2003 editions, I would give the edge to this year's Best American anthology. The collection of stories that guest editor Walter Mosley has chosen are, in general, more readable, more entertaining, and cover a broader range of human emotions, subject matter, and genres. I would also rate The Best American Short Stories 2003 anthology as a better-than-average or even a vintage year.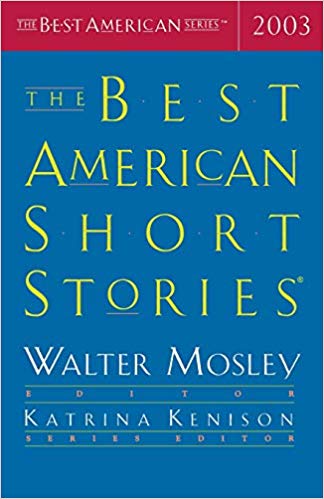 I especially enjoyed the two "genre" stories included, a horror story and a science fiction story. Each is memorable not because of the aspects of their plots that classify them in their genre, but for what they reveal about human nature. Dan Chaon's "The Bees" shows the dangers of keeping secrets in an attempt to escape the past, and Ryan Harty's "Why the Sky Turns Red When the Sun Goes Down" contains a bizarrely fascinating plot element (a robotic child for couples unable to conceive their own), but what it actually illustrates is the difficult decisions parents make about their children, the immense power they have over them, and the changing relationships when a couple becomes a threesome by having a child.
Other highlights: Susan Straight's "Mines", which is a stark, realistic portrayal of the tough choices facing people on both sides of the U.S. criminal justice system; Mary Yukari Water's "Rationing", which illustrates the generational differences in Japanese society; and Anthony Doerr's "The Shell Collector", which is the only story chosen for inclusion in both the Best American and O. Henry anthologies (and rightfully so). Interestingly, there are actually two pairs of stories concerned with similar plot elements (robotic children, and father/son relationships after the mother has passed away), but each pair is very different. This shows why this collection is so strong: it's not so much due to the plot of each story, but rather to what each story says about the human condition.
Since choosing favorite stories is such a subjective process, each reader will no doubt have their own favorites. However, this year's Best American anthology provides plenty of good stories from which to choose your own favorites.