Book review:
The Best American Short Stories of the Century

, ed. by John Updike

originally posted elsewhere: August 29, 2003

tl;dr: Doesn't (can't) live up to the title, but very worthwhile...

Solely due to the way this book was assembled, it cannot live up to its title. This book is not an assemblage of the best short stories from the entire body of 20th century American literature; rather, this book is an anthology of the best stories that happened to have appeared in the annual Best American Short Story volumes. So, to make it into this book, a story would have had to be recognized when it was written as being one of the best of that year, as chosen by a single editor/reader.

I enjoy reading short stories, and every year I purchase both the O. Henry Prize Stories and the Best American Short Stories. When I first did this, I was amazed at how little overlap there is between 20 stories chosen for each anthology (usually, there are only one or two stories in common, and typically the story chosen by O. Henry as the best of the year does not appear in the other anthology). So once again we have evidence that beauty (and art and subjective opinions such as "best") are in the eye of the beholder.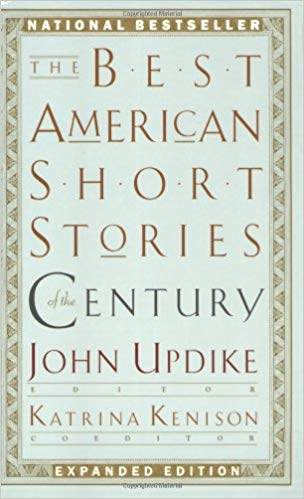 So, can John Updike's selections be debated? Undoubtedly; every reader of this anthology will be able to cite stories and authors that they believe should have been included (as for me, I was most disappointed by the absence of Ray Bradbury). But is this anthology worth reading? Absolutely!
Reading this anthology cover-to-cover is like traveling through time, and provides an enriching perspective on the history of the 20th century in America. From the hardscrabble existence of immigrants and farmers, to the Depression, to the problems of racism, to the war, to the ennui that exists in a time of relative plenty, these stories do cover the broad American experience of the past century. Furthermore (aside from Ray Bradbury), many of our best authors are represented, so this book is a good way to get introduced to authors that one has heard about but not read before.
It's surprising to me that short story anthologies aren't more popular, given our busy society. A well written short story entertains, conveys a message, teaches something about the human condition, and can be enjoyed in one sitting, such as a short plane or train ride. I would highly recommend this anthology as a way for short story novices to get started, and then one can graduate to the annual O. Henry and Best American Short Story anthologies.