Book review:
Kissing in Manhattan: Stories

, by David Schickler

originally posted elsewhere: July 13, 2003

tl;dr: Quality entertainment for men...

I purchased this book because it contains a very amusing short story, entitled "The Smoker," that I remembered enjoying in the 2001 O. Henry Prize Story anthology. I originally gave this book to my wife as a gift, acting under the usually reliable rule of buying others gifts that you would enjoy. However, now that I've read the book myself, I understand why she just rolled her eyes when I asked her for her impression of the book. I strongly suspect that red-blooded American males will get much more enjoyment out of this book than their modern-day liberated female counterparts.

Kissing in Manhattan qualifies as male fantasy every bit as much as Playboy Magazine, and hence is quality entertainment for men. The male lead characters fit in one of two categories: super strong ego, dominating / controlling types (Checkers in the first story, and Patrick Rigg), or the polar opposite: supremely introverted, shy, meek, passive Clark Kent types (Jeremy Jax, Douglas Kerchek, James Branch). The women are almost all drop-dead gorgeous, smart, and game for almost anything. I am quite certain that I will live my entire life without ever having a beautiful 26 year-old woman do to me what the female lead in the story "Serendipity" does to a much older, facially disfigured man. So, even though that story and others lack a degree of realism, that doesn't mean they can't be enjoyed - as fantasy.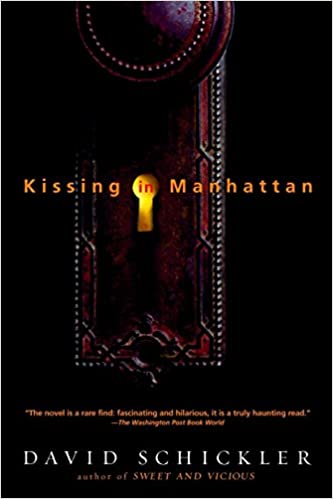 The other cultural reference that I thought of when reading this book, especially the title story "Kissing in Manhattan", is the Adrian Lyne / Mickey Rourke / Kim Basinger movie Nine ½ Weeks. The profiles of the male lead characters in the movie and this book are almost identical: extremely successful, relatively young Wall Street men (it is never explained precisely how they make their money) who use their power and money to control beautiful women. Schickler's book, of course, delves deeper than Lynne's movie, but I suspect that if you were intrigued by the movie, you would be similarly intrigued by this book.
Schickler creates well-crafted stories. Several of them go right to the very last word before you know what really has happened and how to interpret it. However, when I ask myself what new insights I have gained into the human condition by reading this book, I am a bit at a loss. Certainly a reader will learn that Manhattan is populated almost entirely with flawed, eccentric personalities. However, even with all the possibilities for different human interaction that exist on the island of Manhattan, loneliness pervades. Beyond that, it is difficult to draw too many other conclusions, since the characters are a bit fantastical.