Book review:
Three Nights in August: Strategy, Heartbreak, and Joy Inside the Mind of a Manager

, by Buzz Bissinger

originally posted elsewhere: July 25, 2009

tl;dr: Insightful peak into the challenges of being a modern-day major league manager...

Love him or loathe him, by many measures Tony LaRussa is one of the most successful managers in MLB history, especially in recent decades. To create Three Nights in August, he allowed Buzz Bissinger unprecedented access to his team, his staff, and his inner thoughts and feelings. There are still areas which are off limits, of course, but this access allowed Buzz Bissinger to create a more insightful baseball book than the typical "fan book". For those baseball fans who imagine themselves to be managers (which is probably most fans other than casual fans), Three Nights in August provides details on what the job is actually like - but it also leaves the fan/reader thirsting for even more.

Three Nights in August is a peak inside the mind of a major league manager, showing the pressures and challenges he has to deal with, and the decisions he has to make over the course of a season, a three game series with an arch-rival in a pennant race, and individual games and at bats. Baseball is a game with many layers and complexities, and Three Nights in August reveals many of the games within the game, the sub plots, and the background. First and foremost is the human element, in determining the composition of the team (the roster), the roles for the different players, and motivating them to perform their best (something that not even a master like La Russa is capable of doing all the time with all his players). Dealing with injuries, adversities and bruised egos is another major element of a manager's job, and Three Nights in August reveals many challenges in these areas that don't usually make the papers. This reminds us armchair managers that, when we criticize the decisions of the manager of our favorite team, we simply do not have access to all the information that he does.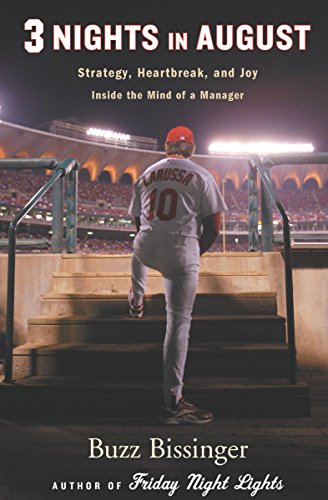 Three Nights in August also delves into the strategic game decisions that a manager makes. These are important, and La Russa is definitely one of the more creative, innovative MLB managers in this respect, but Three Nights in August shows that managing the human element is even more important. As all managers do, La Russa has to decide when to punish, encourage and reward, and how best to use these tools to extract maximum performance from his players, some of whom care deeply about being the best they can be, and some who do not.
Three Nights in August also reveals the personal and lifestyle challenges that La Russa has faced over the course of his career as a manager. He himself is very dedicated to his job and being the best he can be, and his family has paid a significant price because of this.
While Cardinal fans will appreciate Three Nights in August the most, the book definitely makes worthwhile reading for baseball fans in general.