Favorite family ski vacation destination: Steamboat
posted: January 14, 2017
tl;dr: Powder, terrain variety, uncrowded beauty, and a friendly town keep my family coming back...
This is going to sound a bit like an advertising pitch, but I could have chosen any of the other ski resorts I've visited as my favorite place for a weeklong family ski vacation: Sun Valley, Bend/Mt. Bachelor, the Lake Tahoe area, the Utah Wasatch areas, Taos, Telluride, Lake Placid/Whiteface, Stowe. I think Alta and Snowbird are the best place for a 3-day ski weekend with other experienced skiers, because you can maximize the time spent skiing: Salt Lake City has lots of flight options, you really can get from the airport to the lifts in an hour, the snow is fabulous, and the terrain is challenging. But for a weeklong family ski vacation my favorite place, and the place I keep returning to, is Steamboat.
Steamboat is off by itself in the northwest corner of Colorado, far from the I-70 Denver ski resort traffic jams. Getting to Steamboat can be a challenge: there are a few daily flights from major U.S. cities into nearby Hayden, but they often experience issues (this is the voice of experience speaking). Driving from the Denver airport is possible, although it once took me more than seven hours during a mountain snowstorm (it was 45 °F and sunny when I left Denver). But Steamboat's remoteness, assuming you're staying for a week or more, is actually a virtue: when a major storm hits, the slopes will not fill up with daytrippers and overnighters from Denver. The many other ski areas which are closer to Denver will absorb the excess, leaving Steamboat's powder relatively untouched.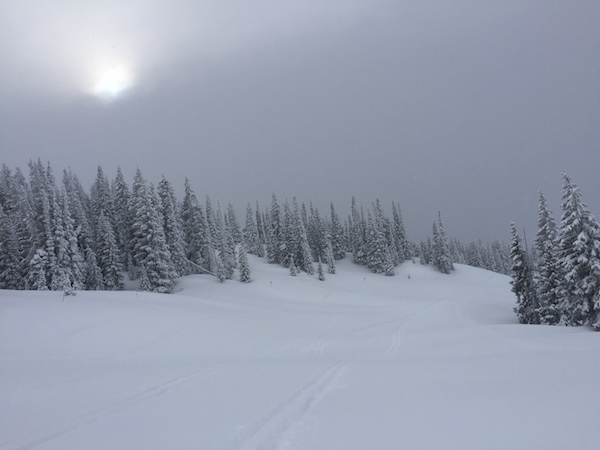 Steamboat is known for its "champagne powder", both quantity and quality: the water content by volume is often around 8%, which is on the dry and fluffy side of the snow spectrum. The Utah Wasatch areas also often get this kind of powder snow; in fact, Steamboat is roughly on the same latitude as the Utah Wasatch areas, about 200 miles to the east. Skiing in champagne powder is a transcendent experience: it is like skiing in a cloud, and if you fall, you are falling into something softer than a mound of feathers. As for the weather, "when it's not snowing, it's sunny" are words I've heard attributed to Billy Kidd, 1964 Olympic medalist and director of skiing at Steamboat. That is only a slight exaggeration; the "bluebird" days, with their brilliant sunshine and cloudless blue sky, definitely make suntan lotion a necessity.
Being further north than other Colorado ski areas means that Steamboat gets copious snow at lower elevations; the base of the ski area is around 6900 feet and the highest point is a little over 10,500 feet. This helps with altitude adjustment; I noticed the altitude a lot more in Telluride, whose base is almost 2000 feet higher.
As for the skiing itself, Steamboat has a wide variety of terrain to suit all types and levels of skiers, which is one of the key reasons why it is great for families and groups: there is something for everyone, from absolute beginner to expert. Steamboat is known for its excellent tree skiing: there are many places where it is possible to ski off the trails through groves of aspens and fir trees. There are extreme double black diamond runs that require expert tree skiing abilities, but there are also gentle tree skiing areas where the skill can be acquired. The trees don't have to be skied to be enjoyed; it is fun to watch others makes their way through them, and of course they add to the natural beauty of the place.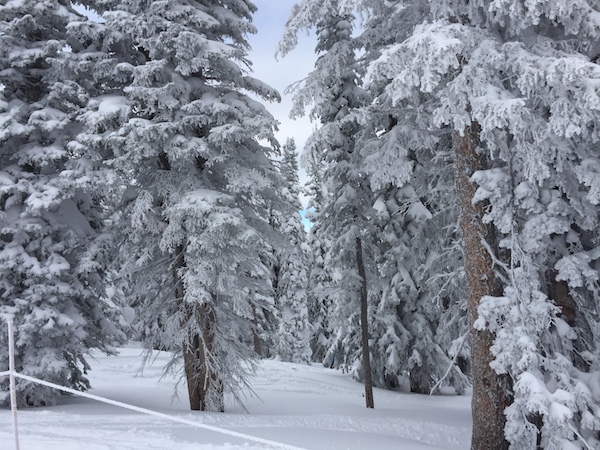 One of my kids learned how to ski at Steamboat, so I can attest to it being great place to get hooked on skiing. They have some gentle inclines around the base area where the beginners start off, complete with magic carpets and a slow speed beginners lift (on my first trip to Steamboat I spent far more time on this lift than any other, skiing with my beginner and racking up some major dad points). Being a ski instructor at Steamboat is a career pinnacle for many ski industry folks; the instructor I hired to teach my kid was an 18-year Steamboat veteran who originally moved to Steamboat from France. Once a beginner starts up the learning curve there are parts of the ski area with easy progressions to gradually try steeper and steeper terrain.
Steamboat is much more than just the ski area. The town of Steamboat Springs long pre-dated the ski resort so there is a "real" historic downtown area, unlike some ski areas with their Disneyland-like facsimiles of European mountain villages. The primary non-tourism economic activity in the area is ranching, so the town has a friendly Western cowboy attitude. Steamboat is nowhere near as pretentious as some other Colorado ski towns (Aspen and Telluride I'm looking at you). Yes there are multi-million dollar slopeside homes, and places where you can easily drop $100 on dinner, but there is also a Walmart near the base area, and a KFC if you want to eat dinner for under $10. Steamboat, more than most ski areas, caters to all.
For the folks in your group who don't want to spend their whole week downhill skiing, there are plenty of other activities, sights, and shopping. Steamboat Springs has several natural hot springs, one right downtown. There is cross country skiing, snowmobiling, horseback riding, fishing, bicycling, balloon rides, and all sorts of other things that I never do because I always go skiing. But for people who don't follow my "Steps for a Great Ski Vacation: Eat, Sleep, Ski, Repeat", there are plenty of other things to do. Or so people tell me.
Although I enjoy experiencing other ski areas, these are the many reasons I find myself returning to Steamboat.
Related post: Best (non-extreme) Steamboat trails
Related post: The easiest black trail at Steamboat