Best (non-extreme) Steamboat trails
posted: January 22, 2017
tl;dr: Steamboat offers variety, as these seven memorable runs prove...
Although I've skied there for years (see Favorite family ski vacation destination: Steamboat), I've not yet skied every of Steamboat's 165 trails. One category of trail that I've avoided is the double black diamond runs, which at Steamboat means "no actual trail: just incredibly steep, with trees". So I'm not trying to list here the seven most extreme Steamboat trails that will satisfy the most jaded ski bum. Rather, these are the seven most memorable, most iconic, and best Steamboat trails for the non-extreme skier, in the range of black to green.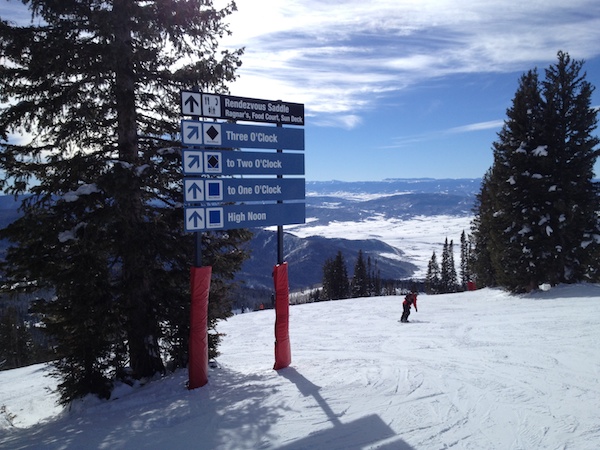 1. Three O'Clock (black)
Three O'Clock is Steamboat's ultimate thigh burner black diamond run. It may be the longest black diamond run; if not, it feels like it, as I have yet to ski it non-stop. Fortunately when you pause to catch your breath you get a fantastic view. It's steep, with multiple different sections, including some places where moguls can build up to the size of VW Bugs. The aspen trees for which Steamboat is renowned are just off the side of the trail; your extreme skiing friends can head over there. Although Three O'Clock is officially part of the High Noon-to-Three O'Clock progression, it truly does stand on its own merits as a run that can match up with the best of any resort anywhere.
2. Buddy's Run (blue)
Named after U.S. Olympic skier and Steamboat Springs native Buddy Werner, this is Steamboat's ultimate giant slalom run. It's big, wide, long, and steep, with a variety of different sections, and it invites you to ski it as fast as you dare. It starts at the top of the aptly named Storm Peak, which bears the brunt of the storms that provide Steamboat with its "champagne powder". There are times I've skied it where I couldn't see anything but pure white at the top and had to feel my way down. Fortunately, if the weather is bad at the top, it often improves as you make your descent. Buddy's Run is the best run at Steamboat for just going fast.
3. Tomahawk (blue, barely)
This is Steamboat's ultimate blue cruiser run, and one that can match up with the best blue cruiser anywhere. It is literally a roller coaster, with bumps that go up and down. After making a few turns at the top, or taking Sundial for a slightly easier start, even intermediate skiers will be able to work up the courage to just point 'em straight and go. For those earlier on the learning curve, this is the first blue run at Steamboat to try, and they will love it. There is also an option towards the bottom called Baby Powder where younger skiers can get a taste of skiing in ungroomed powder, depending on conditions. For a large group of skiers at different ability levels, Tomahawk is what you'll want to ski together first before heading off in different directions; everyone will enjoy it.
4. See Me, entered from Sitz (black)
Appropriately named, as when you ski See Me you are in full view of everyone at Steamboat's base (don't be nervous). The first time you ski it you'll want to pause and peak over the edge after entering from Sitz; See Me is plenty steep, and the challenge is to see how many turns it takes you to ski it without crashing and making a spectacle of yourself. But unless you are a pro, it's highly likely that you will be left in the dust by a teenager racing just adjacent to the trail. Sitz has the starting booth for the giant slalom training course used by the Steamboat Springs Winter Sports Club, so for part of the run you ski directly next to the race course. Getting blown away by a 15 year-old with a ponytail is a wonderful way to keep one's ego in check.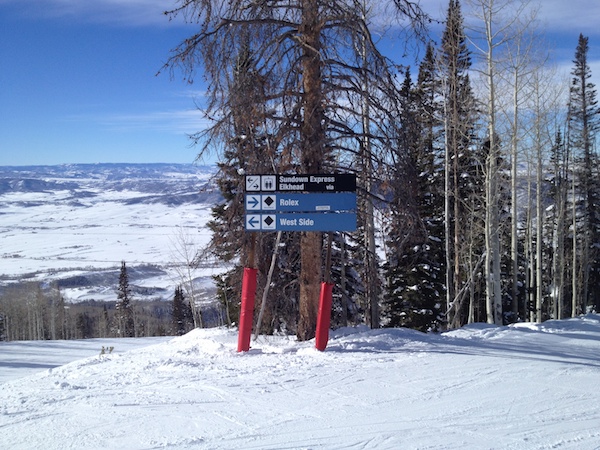 5. Rolex (black)
Not terribly long, but Rolex gets terribly steep as you make your way further down. The most fun section is the very bottom: just when you think it can't get any steeper, there is what appears to be a cliff in the trail. Your rational mind tells you that there must be snow of some sort on the other side, but your emotional mind tells you that you are about to ski off a cliff and die. Rolex is in full view of three lifts, as it ends in a bowl where multiple trails converge, so those standing in the lift lines get to watch how different skiers navigate that final steep descent. I've seen some spectacular crashes; Rolex is almost as much fun to watch as it is to ski.
6. Vagabond (blue)
Some will vehemently disagree with ranking Vagabond this high, because it does have one significant downside: since it is the primary blue run down from Steamboat's gondola, it is heavily trafficked, and by the end of the day (or even well before that), it gets skied out, with the surface snow pushed to the sides. Furthermore, it attracts plenty of over-their-heads noobs who don't realize how much steeper it is than Steamboat's beginner green runs. However, if you ski it early in the morning after it's been groomed and before the noobs show up, it's actually a long, scenic, challenging blue run with some interesting variety and a nice runout at the bottom.
7. Why Not (green)
Now I have definitely attracted the ire of Steamboat's extreme skiers, as Why Not is, yes, a cat track. However, when you're skiing with a group that includes beginners, they will absolutely love Why Not. It's Steamboat's longest run, at around three miles, and it will get a beginner down all the way from the gondola, after which they will feel a major sense of accomplishment. There are a few tricky hairpin turns that beginners struggle with; expert skiers will laugh at the noobs (inside, of course) and wonder if they ever skied so badly. But everyone will enjoy the scenery and the occasional furry creatures along the way.
Finally, a word about Steamboat's two progressions. Steamboat's Sunshine Peak has two sets of trails that gradually increase in steepness and difficulty, which is fantastic for folks to develop their skills or to test themselves against the mountain:
Tomahawk - Quickdraw - Flintlock - Sunshine Lift Line green-blue progression:
Start on Sundial if you want to start off on a green, then jump onto Tomahawk for an easy and super fun blue cruiser. As you ski the progression, the runs get just slightly steeper each time. There are also steeper cutoffs for more of a challenge, and plenty of places to try a little bit (or more) of tree skiing. Less experienced intermediate skiers will want to spend most of their time at Steamboat on this progression.
High Noon - One O'Clock - Two O'Clock - Twilight - Three O'Clock blue-black progression:
This is a good place for advanced skiers to get a feel for how Steamboat's trails are classified. There is much more of a delta in difficulty between the first and last run in this progression than the green-blue progression. If you can ski Three O'Clock well, you can ski any black run anywhere at Steamboat.
Related post: The easiest black trail at Steamboat
Related post: Favorite family ski vacation destination: Steamboat