A Steamboat snob skis Aspen
posted: March 16, 2019
tl;dr: Aspen's greatest strength is also is greatest weakness...
After last year's ski weekend in Vail, this year's bucket list destination for my annual ski trip with my brother was Aspen. For as long as I can remember, way back in childhood, I'd heard stories about Aspen and watched ski races on TV from Aspen, especially on ABC's Wide World of Sports, with Jim McKay. I've read several of nearby Woody Creek-resident Hunter S. Thompson's books, and articles in Rolling Stone, and heard about the celebrities who frequented the town. Now it was finally time to experience it firsthand.
The IKON pass helped make the 3-day weekend more affordable, especially considering that one of my daughters accompanied us this year. For those not familiar with the ski resort industry, the major resorts are being swallowed up into one of two corporations: Vail, with its namesake resort as the premier in the portfolio; and Alterra Mountain Company (formerly Intrawest), whose most famous resort is Aspen. Each offers a pass (the Epic and IKON passes, respectively), good at any resort in the portfolio. My daughter and I got our money's worth on our IKON passes by skiing a week at Steamboat, so we effectively got to ski for free for three days at Aspen and Snowmass. To me it sounds like too good a deal to be true. I was skeptical right up to the moment that my pass got me through the first RFID ticket check gate at Snowmass. I wonder how many more years this deal will last...
I've already mentioned the name Snowmass, even though our intent was to ski Aspen: this is a prelude to Aspen's greatest strength and weakness. The Aspen ski resort is actually four geographically separate ski areas. Aspen Mountain, with the small city of Aspen directly at its base, is what everyone thinks of as Aspen. But there is also Aspen Highlands, Buttermilk Mountain, and the largest of the four by far in terms of acreage, runs, lifts, and lodging: Snowmass. An excellent free bus system connects all four ski areas, but it takes 30 minutes to get from where we stayed at Snowmass, where the lodging is merely expensive, to Aspen, where the lodging is outrageously expensive.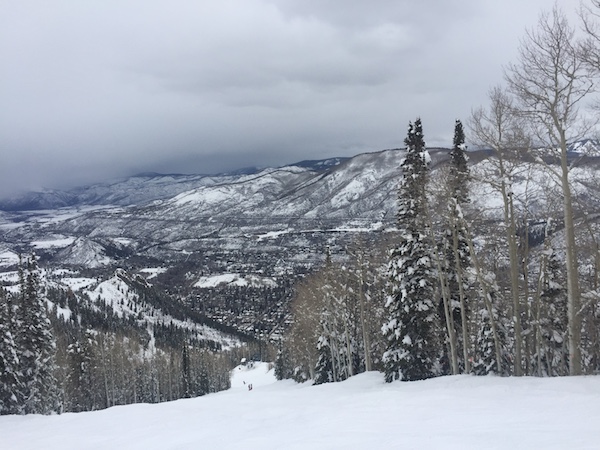 Snowmass is intended to be a family resort, with a variety of terrain accessible to all. To me it's what results when you give the people what they want, which is lots of blue cruiser runs and plenty of ski in/out accessible lodging. The bottom of all the base lifts is very gentle and not all the much fun. If the trail system were built as a pure ski hill, you'd lop off the bottom third of the existing trail system. The Elk Camp Gondola even has a mid-station loading zone so that skiers do not have to go all the way to the bottom of the run to board the gondola. So take the total elevation gain figure that Snowmass advertises with a grain of salt. But it does seem to have more ski in/out lodging than any resort I've seen.
Snowmass is a fine family ski area, with enough runs to entertain all levels of skiers. But Snowmass is not the ski area that built up the reputation of Aspen and that causes celebrities and World Cup skiers to flock to town. if I were to rank Snowmass on its own compared to Steamboat, I'd put Steamboat ahead of it. Steamboat has an even wider variety of runs, with more tree skiing and more challenging expert runs. I don't think this is just because I know Steamboat a lot better than Snowmass.
What sets Aspen apart, however, is Aspen Mountain. It's an intimidating sight to stand among the high-end retail shops and restaurants of Aspen and gaze up at the ski area which looms over the town. It looks like a steep, world-class experts-only hill. The trail map warns that there are no beginner runs: everything is a blue, black, or double black diamond run. It looks like a place where, if you're not on the World Cup ski circuit, you could perhaps die or at least end up in the hospital.
The other two members of my party didn't want to give it a try, but I wasn't going to come all the way to Aspen and not ski Aspen. I've skied some of the most challenging runs at Steamboat; how much harder could it be? I asked around and did some research, and discovered a deep, dark secret of Aspen Mountain: there actually are a bunch of blue cruisers off the top of the gondola. Intermediate-only skiers can take the gondola to the top, lap the cruisers on the Ajax Express lift, take the gondola back down, and brag to everyone that they skied Aspen Mountain.
I skied some of those cruisers, and by late morning they did fill up with not-world-class skiers. The more enjoyable parts of Aspen Mountain, for me, were the steep blues and blacks. I skied what I had heard was the World Cup downhill course, starting at Ruthie's Run, which was a fast, mostly steep, groomed blue. For me there was plenty of challenge on Aspen Mountain, and I had a blast.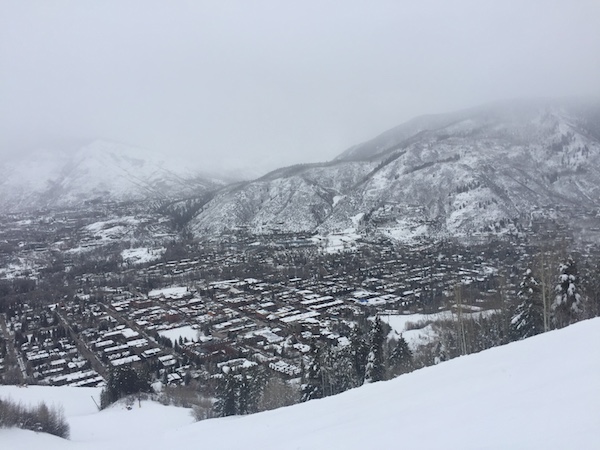 The only thing missing was my companions. When I stopped for a break, I couldn't meet them at a lodge, since they were skiing a completely different ski area. That, to me, is both the greatest strength and weakness of Aspen. On the one hand I enjoyed being on a ski area with no noobs and other (mostly) good skiers; on the other hand I missed being with my companions. That divide between the elites and the masses is reflective of the city of Aspen itself. I prefer Steamboat, both the ski area and the city.
Setting that issue aside, the scenery at Snowmass and Aspen was very similar to Steamboat. Both resorts feature lots of aspen and pine trees. Various runs reminded my daughter and me of runs at Steamboat: you could take a picture at a certain place and angle and show it to us later, and we'd be unable to tell whether it was Aspen/Snowmass or Steamboat. The wooded scenery on the Funnel Bypass cat track run is very similar to Steamboat's Why Not run. The upper portion of the Two Creeks lift reminded us of Steamboat's Sunshine Express lift. Aspen's Ruthie's Run looked and felt the same as Steamboat's Heavenly Daze, albeit with a lift instead of a gondola running alongside it. I've never skied at an area that reminded me so much of Steamboat; I can see why the folks at Intrawest acquired both properties.
Both also are destination resorts, best suited for weeklong ski vacations, not weekend trips. That leads to the second main drawback of Aspen: getting there. Flying in is not only expensive, but we heard a number of horror stories from people about aborted flights that couldn't land in the tiny Aspen airport because the wind was blowing. The drive from Denver is four hours in the best of conditions, which are rare along I-70 during ski season.
As per usual, when we arrived at the Denver airport the air was calm with a temperature in the lower 50s Fahrenheit, but by the time we climbed up the Front Range it was snowing heavily and traffic was slowed or stopped: at one point we didn't move for 45 minutes. I-70 had been closed most of the previous day to clear the snow and debris left behind by several major avalanches. We and other people in the stalled bumper-to-bumper traffic would have been sitting ducks if an avalanche had happened then. I call I-70 west of Denver the most insane road in America: yes there are other roads that also go up over 10,000 feet in elevation, but none of them are interstates which come with an expectation of being able to drive at a reasonable speed. Every time I drive I-70 in the winter I swear it will be my last time, but alas I keep coming back. A four hour drive ended up taking eight, albeit with several stops along the way.
Aspen is a very different place than Vail. Vail has a much more corporate feel, with the best facilities by far of any ski area I've been to, but also the highest prices. Aspen has a more laid-back feel to both the ski area and the town. Vail's most unique feature is the back bowls, and I'm not a huge fan of bowl skiing, whereas Aspen's most unique feature is Aspen Mountain itself, with its long, steep runs down into the town. I prefer Aspen to Vail, but I prefer Steamboat to them both.
Still on the bucket list: Telluride, Taos, Jackson Hole, Big Sky, Park City, Deer Valley, Whistler/Blackcomb, others.