The Empire's Mothership: a journey to Vail
posted: April 14, 2018
tl;dr: A true world-class ski resort that aims to be the absolute best, yet is not my ATF...
My brother and I decided upon Vail for this year's bucket list ski trip (last year's trip was to Mammoth Mountain), even though it was a below average snow season for Vail and most of the ski areas in Colorado. I know a Vail fanatic who went over the holidays and left early because she and her family quickly managed to ski all the trails that had enough snow on them to be open. But by the time my brother and I went the snow base had built up and was not yet melted, although there was some wet snow and slush towards the bottom. Skiers continually underestimate spring skiing. We actually got really lucky with the weather: we had one day of a snow/rain mix (which isn't bad to ski in), a powder dump the next day which brought out all the locals, and then lingering snow the third day.
Having never skied at Vail before, the preconceived notions I had in my mind upon arriving were that Vail was "corporate" and that the base area was supposedly a Disneyland, with obviously fake buildings constructed where previously there was no town at all. Vail Mountain is the flagship area of Vail Resorts Inc., which has bought out a large number of other ski areas and is operating them as a conglomeration, supposedly ruining the individual character of each area but offering benefits to Epic pass holders, including the ability to buy a pass and then later choose where to ski. Because of the poor snow in Colorado this year it seems that many Epic pass holders holders headed to Whistler/Blackcomb, much to the chagrin of the locals there. There is nothing a local hates more than some tourist stealing his/her powder.
While the locals don't like it, I think Vail's business strategy is a smart one. Vail has even acquired some small third-tier ski hills such as Wilmot Mountain northwest of Chicago to act as training grounds for the next generation of skiers. Then when these new skiers get interested in making their first ski trip to Colorado, there's a good chance that they will choose Vail if they already have a pass that gives them access to Vail.
Vail was different and much better than my preconceptions. Yes there never was a historical town at the base area, but I didn't find the architecture of the buildings to be any more or less fake than the buildings at the base of other ski areas. There is very little buildable flat land between the bottom of the ski area and I-70, which is only several hundred feet away. It's no surprise that there was never a town of Vail before the ski area: the geography is perfect for a ski area but terrible for a non-ski town.
As for being "corporate", the main way I would apply that adjective to Vail is to a portion of their clientele and target market: corporate executives and other busy, wealthy skiers seeking a world-class resort that is easy to travel to for a quick ski trip. When I-70 is open and not packed with cars either in Denver or the mountains (conditions that are often not true in winter, alas), Vail is but a two hour drive from the Denver airport. There aren't that many ski resorts that are literally located right at an exit of an interstate highway. The other place in the U.S. which appeals to corporate jet setters in a rush is the Salt Lake City area, as the ski areas there (Deer Valley, Park City, Alta, Snowbird, others) are about an hour's drive from a major airport.
Vail appeals to multiple constituencies: the corporate crowd seeking a quick, short ski trip; destination skiers seeking a longer ski vacation; and locals from Denver, who although they have many options, might drive past other areas to go to Vail because of the quality of the facilities and the terrain. The main crowd Vail doesn't appeal to is anyone who is value conscious; we saw very few families and kids during our days at Vail.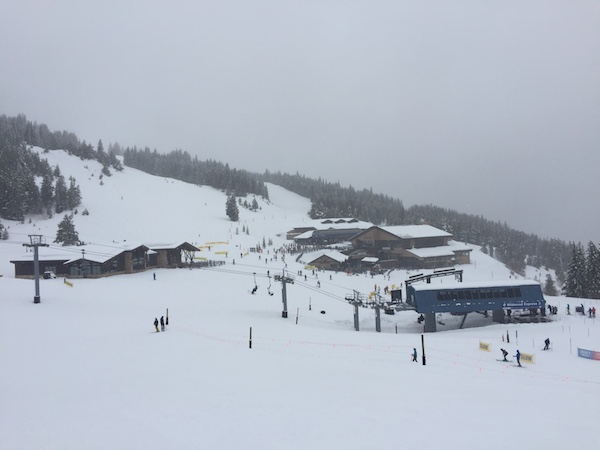 I was amazed at the size and scale of Vail: the ski area itself and all of the facilities. The front side of Vail (the north facing ridge line visible from I-70) seems nearly as big as my favorite area, Steamboat, yet the trails are much wider and there are many more lifts and lodge buildings. Steamboat has three mountain lodges for the entire area; Vail has three even larger lodge buildings just at the top of one of the two gondolas, plus many more mountain lodges. Steamboat has one six-pack chair, at the main base; Vail has six-pack chairs all over the area, including a brand new one that has a conveyor belt to whisk the next group of six skiers from a gate to the waiting area for the chair. With all these lifts, lodges and the wide trails, Vail seemed like it could accommodate ten times as many skiers as we saw, although I wouldn't want to be at Vail when it is crowded. All this is just on the front side of Vail: the back side is even larger, with hardly any trees, wide open bowl skiing, and nary a green run in sight, meaning it is experts only.
The quality of the facilities at Vail (the lifts, the gondolas, the lodges, the grooming, the electronic sign boards) is top notch. It is clear that Vail has a mission to be the best and to set the standard, and I respect that. The main downside is that standard comes at a price, which is high. I paid $6.20 on-mountain for a cup of coffee (granted, I could add whipped cream to it).
We had a great time at Vail and I would definitely go back, but Vail didn't displace Steamboat as my all-time favorite resort because (this will be sacrilegious to some): I prefer tree skiing to bowl skiing. I'm actually not a huge fan of bowl skiing. Yes bowl skiing creates the most possible virgin powder runs after a major powder dump, but major powder dumps are an infrequent occurrence. The other 95% of the time the snow in bowls gets bumpy, and it can harden or get heavy and wet, in which case bowl skiing becomes quite a chore. Without any trees or other local landmarks, it can be disorienting, and snow blindness is a problem on sunny days. Bowls are completely exposed without any trees to break the wind. While the views of distant peaks as seen from the bowls at Vail are beautiful, there's no short range scenery to enjoy in a bowl. The gradient in a bowl is also relatively constant and hence a bit boring. But if you like bowl skiing, Vail is definitely for you. Steamboat has much better tree skiing, and Sun Valley has better fall line skiing.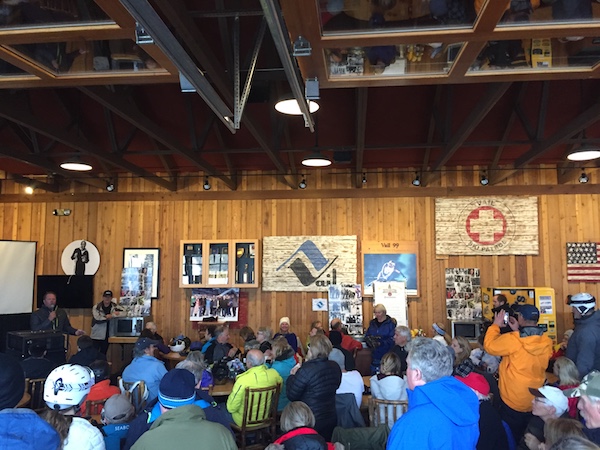 We got lucky with the drive, the snow, and the lack of crowds. One more way we got lucky was by being at Vail on the day the state of Colorado's proclaimed as Warren Miller Day. We literally stumbled upon the ceremony honoring pioneering ski filmmaker Warren Miller at the end of our first day of skiing, in a lodge building at the top of gondola one. Warren Miller's family, friends, former workers, and some of the skiers in his films were there to remember Warren, his work, and the impact he had on the ski industry, which was huge: there's no one who has done more to promote downhill skiing than Warren Miller. I've enjoyed his films for decades, as they are the perfect way to get motivated for hitting the slopes. As his son told the gathering, they could have held the ceremony anywhere, but the family chose Vail. If you can afford it, you can't go wrong by choosing Vail.
Still on the bucket list: Aspen, Telluride, Taos, Jackson Hole, Big Sky, Park City, Deer Valley, Whistler/Blackcomb, others.