Sun Valley: a true classic ski resort
posted: March 28, 2020
tl;dr: Fall line skiing, in a beautiful and historic setting, make Sun Valley well worth the trip...
The COVID-19 pandemic shut down the U.S. ski industry before my brother and I could scratch another resort (Taos) off our bucket list. So, I am reminiscing about, and documenting, our 2015 ski weekend trip to Sun Valley, in the picturesque Sawtooth Range about a two-and-a-half hour drive from Boise, Idaho.
Sun Valley can lay claim to two important firsts in the annals of downhill skiing: the first destination resort in the United States, and the first ski resort to install a chairlift, a single-seater. It, and the adjacent town of Ketchum, Idaho, has attracted many celebrity visitors and residents over the decades. Ernest Hemingway lived, died, and is buried in Ketchum (see my impressions of his book A Farewell to Arms). Ski film pioneer Warren Miller got his start in Sun Valley, and lived for a while in a trailer in the resort's parking lot. My brother and I dropped in on Warren Miller's memorial service at Vail during our 2018 ski weekend. Olympic gold medalist skier Picabo Street grew up in the area; today, there is a very fast black diamond run named after her.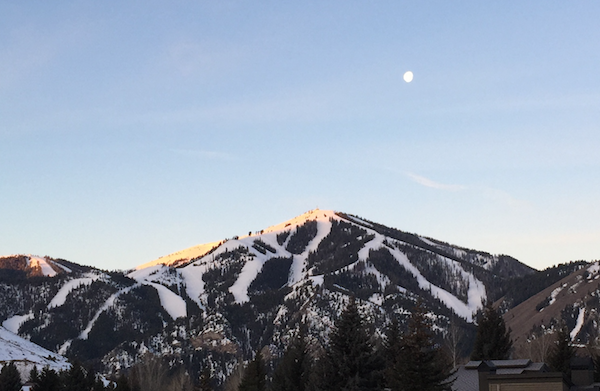 The Picabo Street run is fast because, like many of the runs at Sun Valley, it basically goes straight downhill. Sun Valley is known for its "fall line" ski runs: the fall line is the shortest path downhill, and the path that a ball would take at any point if released from a stationary position. Not every run heads straight downhill, but many of them do, especially the more challenging and thrilling runs.
Picabo Street's run was fun, but my favorite was the Warm Springs run. Besides following the fall line, there are three more features of Warm Springs that place it on my personal top 10 list of favorite ski runs that I have ever skied anywhere. First, it follows a banked valley down the hill, with a U-shaped cross section: the banks on either side keep pushing a skier back towards the center of the run, meaning that it can be skied faster than normal. Second, it's a very long run. Third, there is an express ski lift that takes you from the bottom right back to the top so that you can ski it again. Except for the tail end, where it flattens out a bit, it is the skiing equivalent of being on a rollercoaster: you can go very fast, but with a sense of safety in that you are unlikely to go flying off course. The main danger comes from other skiers and objects: I was almost hit by a pilotless snowboard that may have become detached from its owner at the very top of the run, traveling thousands of feet straight down the fall line.
The Warm Springs run, or others nearby, would be perfect for maximizing the amount of vertical feet skied in a day, which is one way of maximizing your pleasure while skiing. I have no way of knowing, but that run might have inspired Neal Holmes, who (according to a plaque in a base lodge) skied over 8 million vertical feet in one ski season, and then dropped dead before the next ski season. Having skied Sun Valley, I can now understand why Mr. Holmes attempted such a feat. I'm sure he had lots of fun doing it. If my life ends that way, I would die a happy man.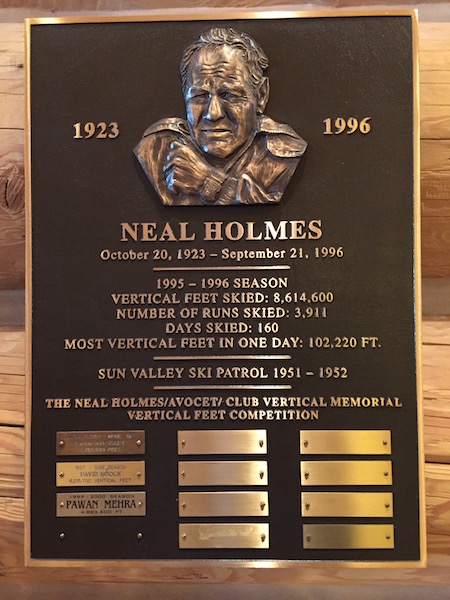 Sun Valley has great fall line skiing, but it doesn't have as much variety in its terrain. The main mountain, Baldy, is fairly symmetrical, with a similar pitch throughout. As a result, the green runs are steeper than at most resorts: I overheard a Sun Valley veteran telling a friend he had been skiing Sun Valley for 26 years and still enjoyed skiing the green runs. But the delta in challenge between the greens, blues, and blacks is less than at other world-class resorts. The other downside of Sun Valley, which some may view as a positive, is that the more gentle beginner runs are on an entirely separate mountain, Dollar Mountain, which is a short bus ride away. While this keeps the noobs off the main mountain, it also makes it hard for a large group of skiers of varying abilities to ski as a group and meet up occasionally for meals or breaks.
My brother and I stayed in the original Sun Valley Lodge, which was undergoing renovation at the time. Fortunately the large outdoor hot tub (really, a small circular heated pool) was open, so we got to enjoy our après-ski outdoors in comfort in a scenic setting. It was a short drive or bus ride into Ketchum, which has many good restaurants, from fancy to hole-in-the-wall, the latter being more our style. I can see why people move to Sun Valley, or get a ski home there, although real estate prices have risen considerably from the $4/acre paid back when the resort was established in the 1930s.
Once we make it through our bucket list, Sun Valley would definitely be worthy of a return visit.
Still on the bucket list: Taos, Telluride, Jackson Hole, Big Sky, Park City, Deer Valley, Whistler/Blackcomb, others.