Performance review: NOJO7 featuring Cyrille Aimée at Scottsdale Center for the Performing Arts, January 16, 2022
posted: Janaury 22, 2022
tl;dr: The world needs more New Orleans jazz right now...
NOJO7 is an ensemble, a subset, of the New Orleans Jazz Orchestra, with leader Adonis Rose manning the drum set behind these instruments: saxophone, trumpet, trombone, tuba (sousaphone, actually), piano, and string bass. For half of their set at the Scottsdale Center for the Performing Arts, the instrumentalists were joined by vocalist Cyrille Aimée. According to the needs of the music, some instruments skipped certain songs; there was even a delightful vocalist/bassist duet, a combination that one doesn't often experience.
NOJO7 gave a thoroughly enjoyable, at times joyous, performance that was much appreciated by myself and the audience, earning two standing ovations and an encore. What a pleasure it was to hear happy New Orleans-style jazz while the world is still in the midst of the latest variant of the COVID-19 endemic. NOJO7's concert reminded this listener of the power that music has to uplift spirits and improve people's states of mind, which is exactly what the world needs right now. After all, who doesn't enjoy a good tuba solo?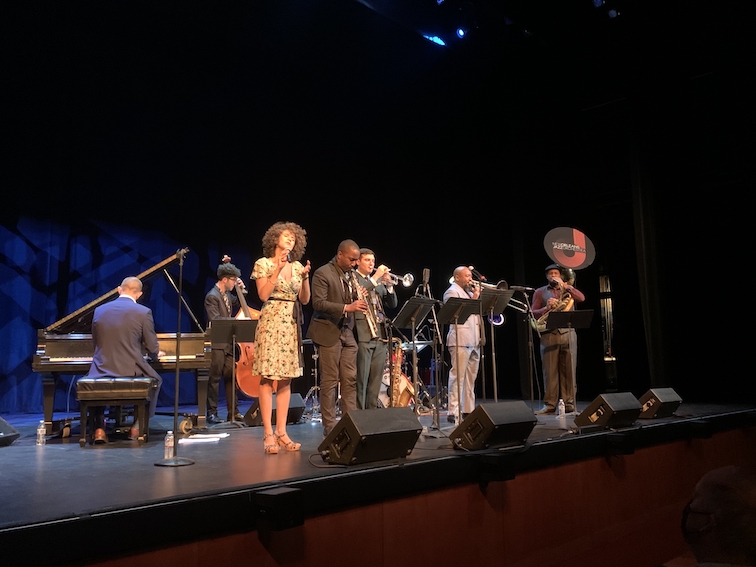 NOJO7's playlist ranged far from the boundaries of traditional New Orleans-style jazz. They also played an Ellis Marsalis composition, some other modern jazz selections, and once vocalist Cyrille Aimée came on stage, some French ballads, American ballads and lounge songs, skat singing, and the aforementioned vocalist/bassist duet. Each performer got some solos, although the focus shifted to Cyrille Aimée for the second half of the show.
Cyrille Aimée sings beautifully in French; her command of the language, in song, was impeccable to the ears of this listener, who only had four years of high school French. Everything sounds better in French, especially when Cyrille Aimée is singing it. The French have an appreciation for jazz, an American invention, so the collaboration between a French singer and NOJO7 makes a certain amount of logical sense.
The NOJO7 performers and Cyrille Aimée met the audience, one of whom was Phoenix jazz legend Lewis Nash, in the auditorium lobby after the show. Another indication that the performance was well-received was that they ran out of CDs to sell; I will have to go online to purchase mine. Here's hoping that NOJO7 keeps touring, performing, and bringing joyful music to a post-pandemic world.