Getting back in the saddle after a long break
posted: February 19, 2022
tl;dr: How I returned to motorcycle riding after a 30-year hiatus...
I was speaking to a biker who said he had a friend who, like me, resumed motorcycling after a 30-year hiatus. The first time his friend rode a motorcycle after that multi-decade gap was by going to a dealer and taking a test ride. It wasn't ideal, he said, but his friend managed.
When I decided to get back into motorcycling, I still had the motorcycle endorsement on my driver's license. I originally passed my motorcycle test in New York State, which in the 1980s had two classifications: one, which I had, for riding motorcycles of less than 750cc in engine size (my bike had a 250cc engine); and one for all sizes of engine. Somewhere along the line, as I moved from state to state and transferred my license each time, I ended up in a state that did not have the two-class system, so I was given a full motorcycle endorsement. So in 2021 I was completely street-legal to ride any motorcycle in the state of Arizona: I could have just walked into a dealer, bought a bike, and hit the open road with it.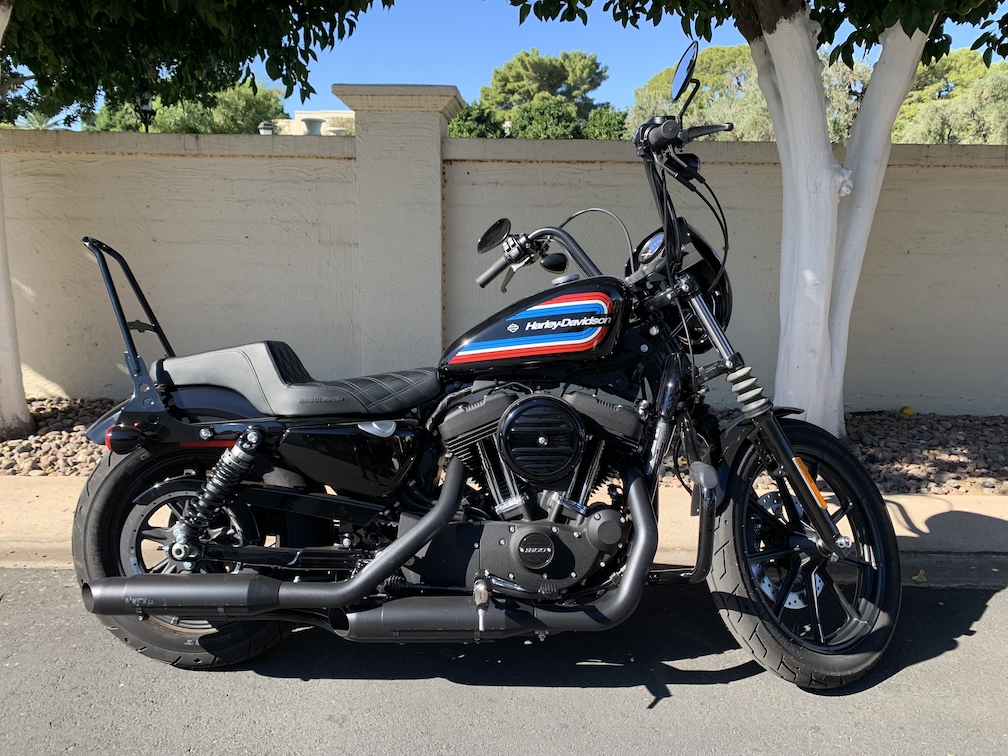 Instead, I took a different approach.
There's an expression, typically applied to bicycles, that "you never forget how to ride a bike". A motorcycle, however, is a much more complicated vehicle than a bicycle. There is a control that must regularly be operated by each foot and hand, including two controls for the right hand. These controls aren't operated in isolation; their use must be coordinated. I never forgot what all the controls were, but I wasn't positive I would be able to operate them well after not having done so for decades. Plus I've always had a healthy respect for the risks of motorcycling. I also had never had any professional instruction in riding a motorcycle: I was taught originally by two college buddies of mine. So I decided the first step to getting back into motorcycling would be taking a motorcycle safety class.
I signed up for the Basic Rider Course at Team Arizona, a company here in the Valley of the Sun that teaches many motorcycle training classes across a variety of locations. The course included classroom instruction, a book to take home and read, a written test, and riding instruction and exercises. At the end there was a riding test: those who passed, as I did, received a card which could be applied for insurance discounts, and which also qualified the holder for a motorcycle endorsement on their Arizona state driver's license. Team Arizona provided motorcycles for the class, so they made it easy for someone interested in riding to learn how to do so without first investing in a bike. The curriculum, exercises, and much of the course material came from the Motorcycle Safety Foundation.
I think I was the only person in our class of twelve who already had a motorcycle endorsement, although a good percentage of the others had ridden off-road (or perhaps on-road) recently. The class ranged in age from a teenager whose dad wanted him to learn proper riding technique, up to me on the upper end. The primary instructor was also an advisory board member of the Arizona Motorcycle Safety and Awareness Foundation: one of the fun things about getting back into motorcycle riding is learning of all the clubs and organizations that exist. Not everyone passed the riding test at the end, although there was a way to recover from a failure and try again.
When I got on a bike for the first time in many years, the basic techniques all came back to me, although I was far from smooth. Months later I am still working on making everything more smooth and natural, with the aim of having everything become second nature. The ultimate goal is not to have to consciously think about anything, instead of reciting a series of steps: "release throttle, apply front brake, position left foot to downshift, grab clutch handle", etc. Motorcycle riding is a lot more challenging than driving a car, especially when you factor in the need for greater awareness of traffic and the road conditions. It requires focus and practice, similar to piloting an airplane. Pilots have to fly a certain number of hours in order to maintain their licenses; it's not practical for states to do so for motorcycle riders. Instead, it's up to riders themselves to recognize when they need instruction and practice.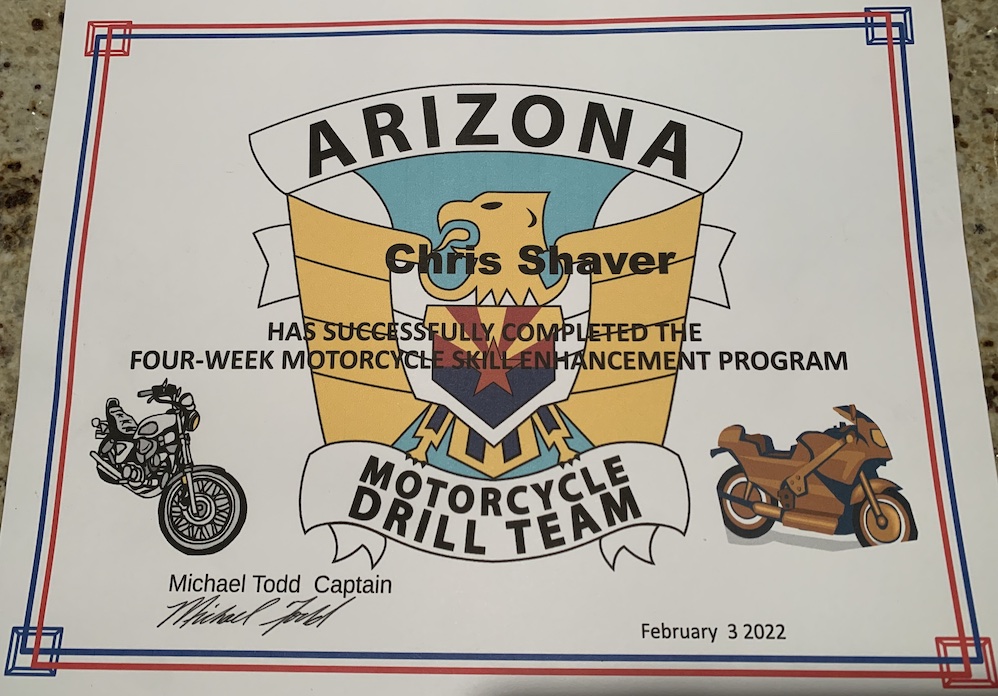 I already had my motorcycle endorsement, and after finishing the course I had my card and some newly regained confidence about riding. It was time to buy a bike, so that I could continue riding. I wanted a Harley-Davidson for a variety of reasons that I'll explain later, and I ended up purchasing a 2020 Sportster Iron 1200, which is one of Harley's smallest and lightest bikes. Still, it is a couple hundred pounds heavier than the bike I had in college (a 1984 Yamaha SR250), with a much larger engine (1200cc vs. 250cc).
I've continued to seek out opportunities to learn more and improve by riding skills. I took a Skill Enhancement Course offered by the Arizona Motorcycle Drill Team, a club that does precision riding in competitions and parades. Several police departments in the Valley put on motorcycle safety classes. I am planning to take another, more advanced course this year at Team Arizona. Just as with skiing and other activities, I enjoy becoming better at it. It makes riding even more fun.
Related post: Why I got back in the saddle
Related post: Why I ride
Related post: Riding a hog