A bad omen for a risky journey
posted: June 18, 2022
tl;dr: Fortunately, I don't believe in omens...
As described in the safest way to bike across the country, a college buddy and I hatched a plan to spend the summer after graduation riding around the United States and Canada on motorcycles. I didn't tell my parents about this until it was fairly close to the actual event, so that they wouldn't have much time to object. They were of course concerned about the danger factor, both because of the motorcycles and risks of two young college kids heading out on their own into the vast North American continent. They had seen the movie Easy Rider, about a similar motorcycle adventure two buddies undertake fewer than twenty years prior to our trip. That movie does not have a happy ending.
There was also the fact that we'd be almost completely out of touch. This was well before the advent of cellphones, the mobile broadband Internet, texting, GPS, location tracking, and map applications. We promised to call from a payphone once a week from wherever we happened to be. There was no fixed route: we had a copy of the 1986 Rand McNally Road Atlas for North America, and we planned to choose our roads as we went, aiming towards various destinations that we wanted to visit. When we had ridden enough for the day, we'd find a campsite wherever we happened to be, and set up our tent and sleeping bags. There was no way we could be contacted.
To start the trip I rode my bike from my boyhood home in upstate New York to my grandparents' home in Connecticut; they happened to live in the same town as my buddy. That would be the official starting point for our trip, and the first destination was Maine, north of Boston, to do a ceremonial dipping of our tires in the Atlantic Ocean. It was overcast when we left my grandparents' house, and the weather very quickly got worse as we headed north into Massachusetts.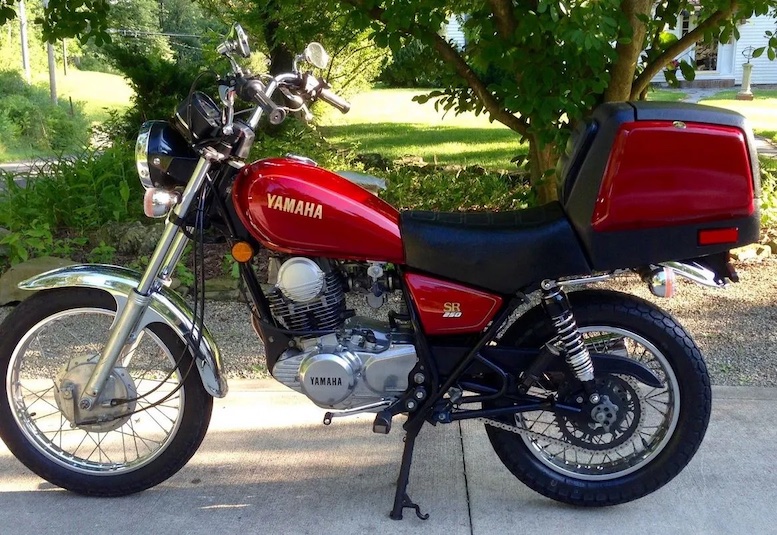 It poured that day. Riding a motorcycle in the rain is surprisingly stable, as long as you ride conservatively, so that wasn't a big issue. We had rain suits, so we weren't completely unprepared. But when you are pelted by rain all day, the water finds its way into every single place that is not sealed tight.
My saddlebags, and everything in them, got wet. My sleeping bag got wet. My boots and socks got wet. By the time we got to Maine, all my gear was sopping wet. What to do? The plan for the trip was to camp every night, and my gear was in no condition for doing so. Was this an omen? Were the gods trying to send us a message that our trip was doomed? Should we heed the warning, turn back home, and forget about this crazy adventure?
Being a couple of engineers, however, we decided that this was just another problem to be solved. We decided to spend some of our limited cash on a motel room with the stipulation that this could not be repeated, lest we run out of money. We took the wet gear to a nearby laundromat and plugged quarters into the dryers until everything was dry. I bought the thickest plastic trash bags that we could find, and used them to wrap my exposed gear and to wrap the contents of each saddlebag. With those modifications made, we set off the next day much drier and a bit smarter.
It barely rained for the rest of the two-and-a-half month journey. I do recall some rain in Oklahoma, and having to wait out a few passing storms elsewhere. That was about it. I haven't looked at the meteorological records to confirm if the summer of 1986 was especially dry in North America, but it was for us. Maybe we were just lucky, and managed to miss almost all the rain that fell that summer in all the places we traveled. We did get caught in an earthquake in California, but that is a story for another day.
It ended up being a great trip, after a lousy first day. Fortunately for us, we didn't pay attention to the bad omen.
Related post: The safest way to bike across the country
Related post: My first motorcycle: 1984 Yamaha SR250
Related post: A second bad omen for a risky journey
Related post: Solo female biker