Ski Arizona
posted: April 2, 2022
tl;dr: Surprisingly good skiing coupled with other attractions makes Arizona well worth a trip for skiers, believe it or not...
My annual ski trip with my brother resumed after a three-year hiatus due to the COVID-19 endemic (our last trip was to Aspen). We were looking forward to skiing in Taos in late March 2020 when all heck broke out and the world shut down. During the 2020-2021 season, ski areas were barely open, with greatly reduced numbers of lift tickets sold each day, plus social distancing, masking, and other mitigations in effect. Travel was also difficult, so we skipped that season. This season ski areas were more open, but I had heard stories of occasional long lines and closed amenities such as restaurants due to staffing shortages. Thinking that we might not get the full experience if we visited a resort like Taos, we decided to stick close-to-home (for me) and give my brother the opportunity to scratch another state off his list by skiing Arizona.
Yes, you can go downhill skiing in Arizona: it's not all palm trees and 120 degree temperatures. After all, Arizona is one of the Four Corners states, and the other three are renowned for their skiing: Utah, Colorado, and New Mexico, which is where Taos is. The ski area we went to, Arizona Snowbowl, solves the snow problem by being located on the tallest mountain in the state: the San Francisco Peaks, northwest of Flagstaff. The highest lift whisks skiers to an elevation of 11,500, which is almost within 1,000 feet of the highest point in Arizona, Humphrey's Peak, at 12,637 feet. The ski area is actually on Agassiz Peak, but Humphrey's Peak is the next major peak to skier's right, with a skiable bowl in between, if bowl skiing is your thing (it's not mine).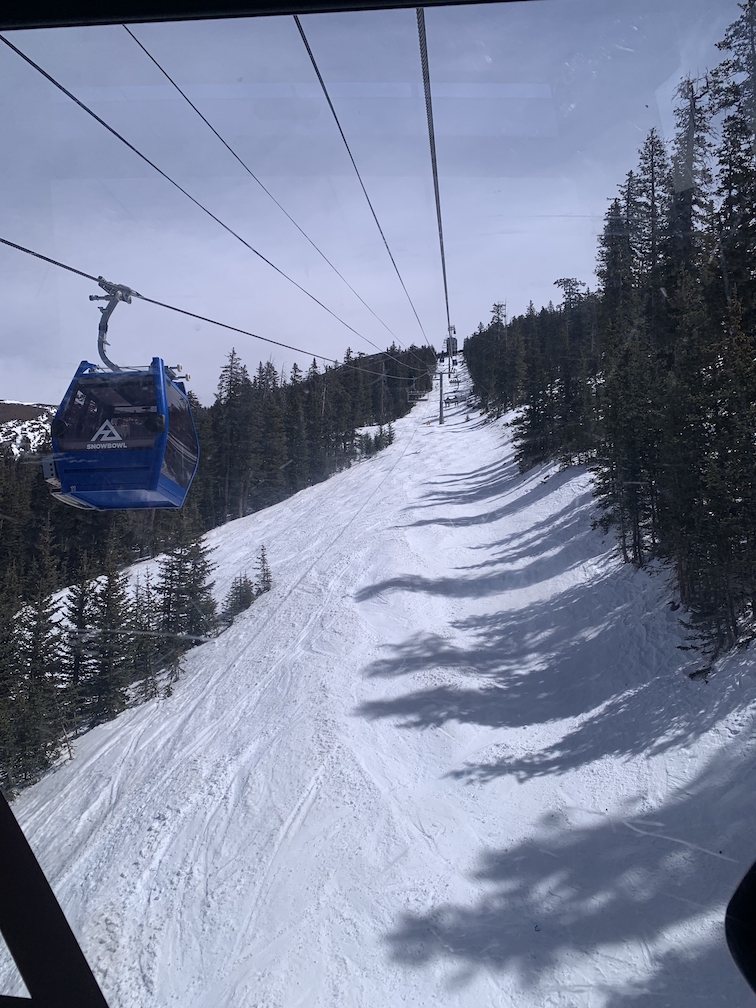 Arizona Snowbowl is not a destination resort, but it is a perfectly fun and challenging place for anyone to spend a ski weekend. Like Mt. Bachelor in Oregon, it is a day ski area only, with no onslope housing. They are expanding the housing area at the turnoff to the ski area road, but most people will stay in Flagstaff, as my brother and I did, which is only a 20 minute drive away. Aside from the beginner chair, there are five other chairlifts that experienced skiers will frequent, one of them being the aforementioned highest lift, the newly installed Arizona Gondola. My brother called it a "chodola": it has gondola cars and chairs intermingled, with two loading and unloading zones. It gives skiers the option of choosing their ride, as well as giving the ski resort the option to migrate it to all gondola cars at some point in the future. The chairs seemed a bit more popular when we skied; the warm weather may have accounted for that.
With only five "real" lifts, Snowbowl is not a large ski area, but it does feature a wide variety of skiing. There are some steep runs for experts that fill up with moguls, there's tree skiing, there's bowl skiing, there's terrain that must be hiked to ski, there are blue cruisers, and there are wide, gentle slopes for the beginners and novices. The quality and variety of the terrain is quite good, and Snowbowl is occasionally blessed with low-water-content fluffy powder snow. In 2019 I skied on the last day of the season, which went until May 19, a good month after areas such as Steamboat and Vail had to close due to national park service restrictions. If Snowbowl had three or four times the amount of terrain, with onslope lodging, it could be a destination resort like Taos.
Snowbowl definitely has its fans, especially townies and outdoor-oriented Northern Arizona University kids from Flagstaff. For a ski bum working at the ski area in exchange for subsistence wages and a free pass, Snowbowl can potentially offer a better deal than places like Aspen, Telluride, and Jackson Hole. Housing at those top tier destination resorts is so expensive that the ski area workers often live in lesser known towns fifty miles away, subjecting themselves to a lengthy daily commute. Although prices have risen in Flagstaff, it's never going to be an exclusive, expensive mountain resort city like Aspen. Aspen has more options for the ultra-rich, but Flagstaff has more options for everyone else.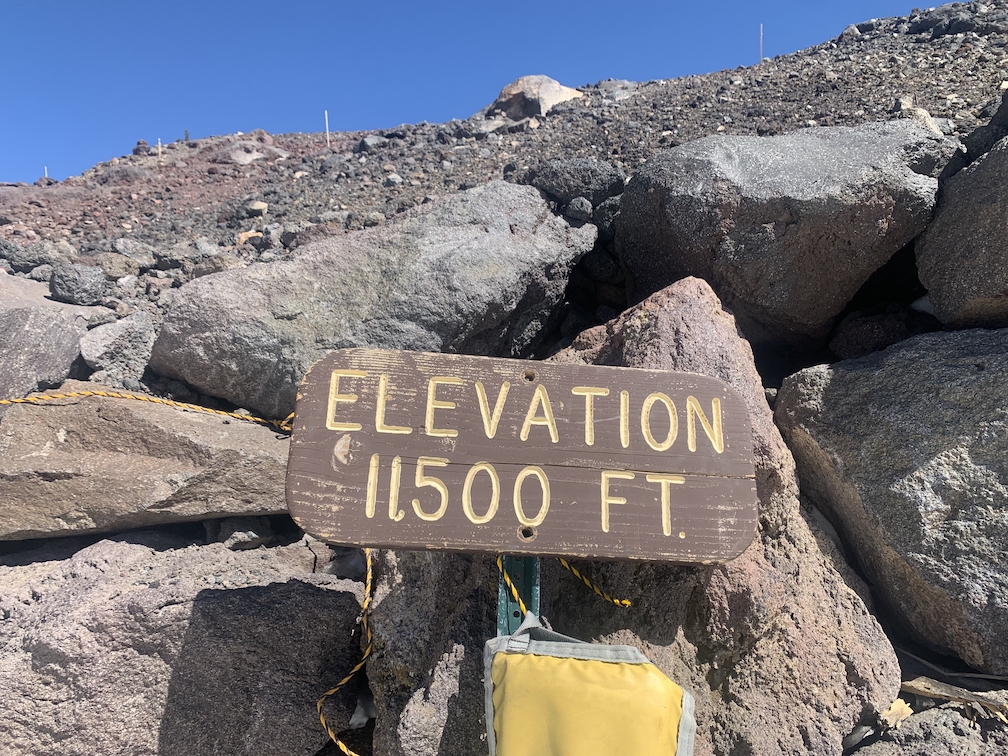 Speaking of options for everyone else, the lift tickets at Snowbowl cost just $34/day, purchased online in advance. Each day I received a $20 resort credit, which we used for lunch, thereby lowering the effective price of the lift tickets to just $24/person/day. It's been decades since I have paid so little for a lift ticket. We skied in spring conditions, which are actually quite fun, and the slopes weren't crowded, which made it that much more enjoyable.
The lift tickets, however, were the only inexpensive item on the trip. Everything else, from hotel to gas to food, was more expensive than before the pandemic, thanks to inflation. I had to ask our waiter what the "FMW" adder was on our bill: it stands for "Flagstaff Minimum Wage", as Flagstaff voters recently boosted the minimum wage to $15.50/hour, and the restaurant owner decided to add a charge to the bill instead of printing new menus with higher prices. I don't mind that the help is getting paid better, but it does mean that people won't be able to eat out as often.
Perhaps the best thing about an Arizona ski trip in the early spring is the ability to sample all the pleasures that Arizona has to offer. Arizona is at its best in spring: it is warm enough in the Valley for basking at the pool, and there is still snow in the mountains. Besides downhill skiing we crammed in:
Spring training baseball game
Hiking at Grand Canyon
4-wheeling in the woods outside of Flagstaff
Sightseeing in Sedona
Arizona can't rival Colorado and Utah for skiing by itself, but there's plenty more in Arizona to entice visitors this time of year.