Great motorcycle roads: Hawaii 550/552 Waimea Canyon, Kaua`i
posted: September 3, 2022
tl;dr: Katy Perry truly did capture the mood of motorcycling in Hawaii...
You're not riding your Harley from the mainland to Hawaii, and it's too large to be checked as baggage on the plane, so if you are a short-term visitor to Kaua`i how do you ride Harleys in Hawaii? One option is to rent from Kaua`i Motorsports in Līhu`e, which bills itself as "the world's westernmost Harley-Davidson dealer". Alex, if she happens to be working, will take good care of you. The prices aren't cheap (few things in Kaua`i are), but they have a decent stable of bikes to choose from. One trick: the dealership is closed on Sunday and Monday, and if you rent over those two days, they only charge for one.
Their Harley tourers (Road Glide and Street Glide) are overkill for Kaua`i. The top speed on the island is 50mph, drivers generally adhere to the limit, and it's a small island, so a fairing isn't needed. I rented a one year-old Heritage Classic 114 because I wanted to give some rides, and also because I own that same model. That allowed me to compare the rental with my bike, which has spent its life after leaving Milwaukee in the arid Arizona desert. There's no avoiding rain in Kaua`i, which causes mechanical devices such as Harleys to degrade at a faster pace, alas. There's a reason rich people with car and motorcycle collections will house them in Arizona. There was nothing major wrong with the rental, it just wasn't in as good shape as my bike at home.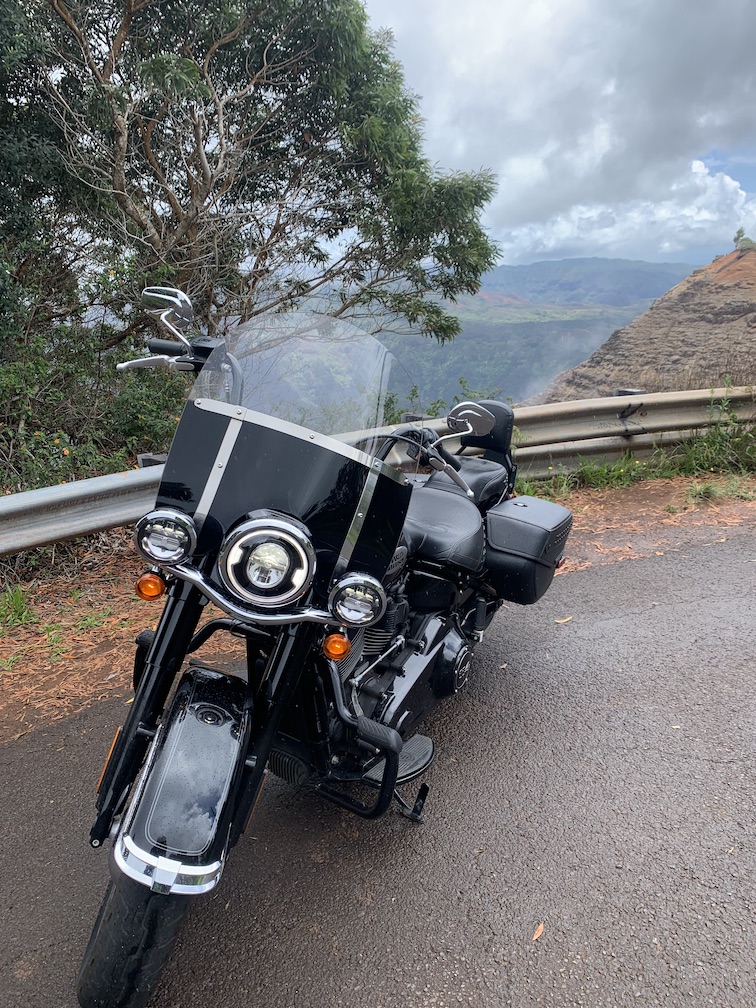 Kaua`i is small enough that you can (nearly) circumnavigate it in a day, easily, if you wish. The Nāpali Cliffs in the northwest prevent the northern coastal road (560/56) from connecting to the southern coastal road (50), so you can't make a complete loop. The numeric designation of the coastal road varies as you traverse it, but it's easy to figure out. It's got a couple divided sections, but I wouldn't call it a highway: most of it is two-lane, with curves. It peters out at each end, and is busiest in the middle between Līhu`e and Wailua. The speed limit might get up to 50mph in between towns, but as you approach a town it will decrease to 45, then 35, then 25. I never got the Heritage above 4th gear. Enjoy the curves, the mountain and beach scenery, and the small towns. Katy Perry captured it well: riding Harleys in Hawaii is not at all about high-speed thrills. It is mellow motorcycling, with pleasant views and vibes.
For the biggest motorcycling thrills, spectacular scenery, and plenty of twisties, head to Waimea Canyon. There are two roads that head up to the canyon from the coast: Hawaii 550 which terminates in Waimea, and Hawaii 552 which terminates in Kekaha. They join part way up the canyon. I recommend them both, so if you take one road headed up, take the other one down. The Kekaha road, 552, is actually the twistier one. It is narrower than 550, with no shoulder, limited visibility ahead, and often has vegetation leaning into the roadway, so it's the greater challenge. It has less traffic than 550, but I did encounter a tour bus struggling to navigate a turn; fortunately I was well within my lane at the time.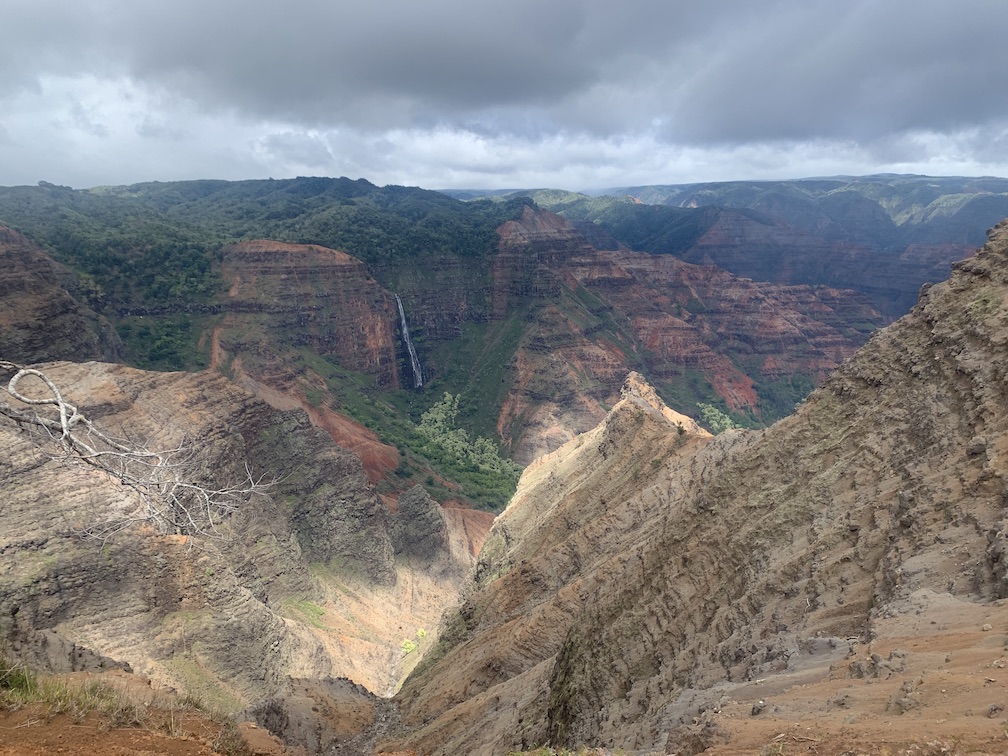 Waimea Canyon is called the "Grand Canyon of Hawaii". When the clouds part and the views unveil themselves, you'll see why. Just like in Grand Canyon you'll see steep canyon walls, different colors of exposed rock, the remains of landslides, and other evidence of erosion and geological forces at work. In contrast with Grand Canyon you'll see more vegetation and waterfalls. I wouldn't want to fall into either canyon, so watch your step. There are some pullout areas, and a few larger parking lots with fees.
The road is very twisty, i.e. very fun: I was in first or second gear the entire time. It's also wet: I was in and out of light showers at least a dozen times over the round trip. The coolness from the rain and the elevation gain were welcome after roasting on the beach. The ubiquitous red Kaua`i dirt turns slick in the rain, and it collects in the road, so be careful. Sometimes the left tire path of one direction of travel is the same as the left tire path of the other direction, moreso towards the top.
Once the road becomes a state park road, you'll see a sign warning about bad conditions. Most of this part of the road has been repaired, but when I rode it there were a few 50 to 100 foot sections with numerous potholes that would easily dump a bike if you didn't choose the right path. In one section there was only one straight-and-narrow path through the potholes, on the uphill right, which I took in both directions. I made it as far as the Kalalua lookout, which was a bit of a bust for me due to extensive cloud cover. On a clear day you can look thousands of feet down the steep valley wall to the ocean not far away.
There are two more sensory pleasures on this ride: smell and taste. Due to the rain and the different vegetation across the thousands of feet of elevation traversed, the variety of scents and their intensity are amazing. This ride is effectively an aromatherapy session of tropical plants, flowers, and pines. Towards the top there is a place to stop for a meal, drink, and rest: Kōke`e Lodge, which serves better food, with a local twist, than your average biker bar.
I hope I will have the opportunity to experience Harleys in Hawaii again.
Related post: Great motorcycle roads: Arizona 89/89A Wickenburg to Flagstaff